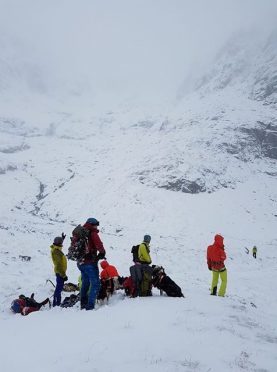 Four climbers were injured in two separate avalanches on Highland mountains during the weekend.
The first incident in Ben Nevis saw three men survive after being dragged 300ft by falling debris on the north face of the mountain at around 12.15pm on Saturday in Coire na Ciste.
Donald Paterson, deputy team leader of Lochaber Mountain Rescue Team – which sent 17 members to the scene – said the three men, in their 40s, were "incredibly lucky."
He added: "They were roped together and one of them triggered an avalanche. They were swept 300 feet down the mountain and over a crag that was 50 to 70ft high.
"Thankfully, they managed to stay on top of the avalanche. They did not get buried, otherwise it could have been a different story.
"They suffered some broken bones and soft tissue injuries, but managed to walk, with the help of two others, to the Charles Inglis Clark Memorial Hut on the Ben, where we met them.
"They were obviously shaken, but they were very lucky. This is the mildest winter we can remember, but, over the weekend, we had a lot of snow which quickly collects in the gullies."
Two helicopters were scrambled from Inverness and a third was sent from Prestwick to help search for the avalanche victims.
A coastguard spokesman added: "We assisted Lochaber Mountain Rescue Team by moving personnel up the mountain.
"Later on, one of the helicopters was used to evacuate the three climbers down the mountain into the care of the ambulance service."
Members of the Search and Rescue Dog Association also joined the search.
Police confirmed the men had been taken to Belford Hospital in Fort William to receive treatment for non-life threatening injuries.
Later on Saturday, a climber was airlifted to hospital after being involved in an avalanche in the Cairngorms.
The man injured his leg, while climbing in the Garbh Choire area of Braeriach at about 6.30pm.
He was taken to Raigmore Hospital in Inverness for treatment.
HM Coastguard said it had scrambled a helicopter from Inverness for the second rescue of the day. Braemar and Aberdeen mountain rescue teams were also called out to help the man on the 4,252 ft Braeriach.
Braemar Mountain Rescue team warned "full on winter conditions" had returned to Scotland's mountains.