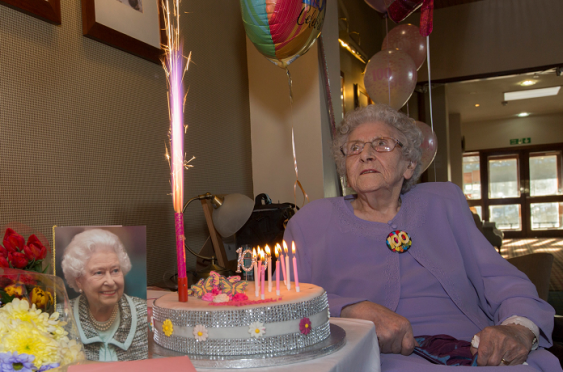 An Orcadian woman who now lives in Caithness has just celebrated her 100th birthday.
But her son had to chase down the postman to collect her cherished card from the Queen.
Belle Scott marked her centenary gathering with what she described as a "lovely" occasion with family and friends over high tea at the Norseman Hotel in Wick. Her family decided to surprise her by telling her she was going to a cafe for macaroni cheese.
However, her son, Dennis, had to drive around the streets on Friday, searching for the post van to retrieve the Queen's birthday card in time for the party.
Fortunately, he only arrived 15 minutes after the celebrations started, and delivered the card to Caithness Lord Lieutenant, Anne Dunnett, who presented it to his mother.
Mrs Scott's daughter, Valerie Stanley, said the family were sipping prosecco at her mother's house while waiting for the Queen's card to arrive between 9am and 1pm on Friday.
The 67-year-old added: "We waited and waited and, in the end, my brother got in touch with Wick Post Office who said it was still in the van. He drove round the streets of Wick looking for it. We were relieved when he arrived with it."
Yesterday, Mrs Scott said the secret to her long life has been "hard work", before adding: "I really enjoyed my day."
Among the gathering on Friday were Mrs Scott's children, as well as a number of grandchildren and great grandchildren.
Mrs Scott, the eldest of six siblings, was born and grew up at Wideford Farm in St Ola and attended Kirkwall Grammar school.
She worked on the farm from a young age and recalled helping her mother wash officers' clothes, while many Italian prisoners of war used to work on the farm during World War II.
Mrs Scott still keeps an old fuel lighter which was made by one of the prisoners.
While in Orkney, she met her late husband, Robbie, who passed away ten years ago, and they moved to Greenland Mains at Castletown, in 1969. They were married for more than 50 years.
Mrs Stanley added: "My mother definitely enjoyed the day and seeing a lot of the family from Orkney, whom she hadn't seen in a while.
"She has kept fit and healthy all of her life and is still able to bend over and touch her toes while standing."