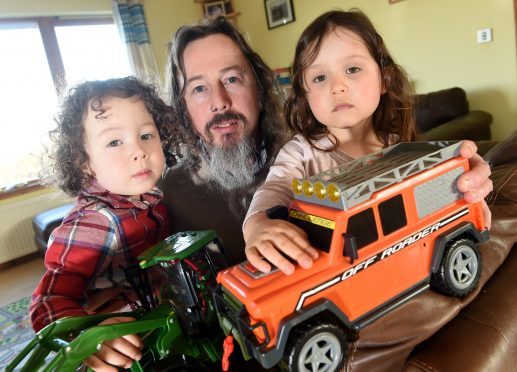 A family living in a remote Highland community have accused the local authority of denying their three-year-old twins the chance to go to nursery.
Richard and Tamsin Williamson have been battling Highland Council over facilities at the tiny two-child Badcaul Nursery in Wester Ross.
The family live just two miles away from the facility, and want to enrol twins Lochlan and Lowenna, who turned three last month.
But their admission has been delayed because of a lack of appropriate toilet and changing facilities for youngsters who still wear nappies.
Highland Council has now pledged to upgrade the unit in time for the children to attend from Easter – but the Williamsons say they have little faith in the work being carried out after several previous false dawns.
Mr Williamson said he has faced having to decide whether to quit his job to take his kids on an 80-minute round trip to Ullapool each day.
"They should be able to go to nursery now but we would have to pay. And based on history, I've got no confidence that this work will be done before April," he said.
"For us, Ullapool would be an 80 minute round trip. The other option is to go south to Aultbea but they are saying they probably wouldn't take them.
"While Badcaul seem to be able to get a changing station, there's an issue that there has to be a toilet.
"Living in a remote location, being in nursery is the only real time they get to interact with other children. They are being denied their right to attend nursery and to interact with other children.
"We feel that because we live out on the west coast that we're just basically overlooked.
"We're sure the local authority are just not interested because we're on the west coast. I don't think they wanted to spend the money."
The family believe the youngsters should have been eligible to attend the nursery from when they turned two a year ago, and question why the facilities have still to be upgraded.
A Highland Council spokeswoman said: "We are aware of the two children who are eligible to attend Badcaul Nursery as from Easter.
"The works required in relation to sinks/hot water in the nursery will be addressed by the end of this term, in time to welcome the children to the nursery."