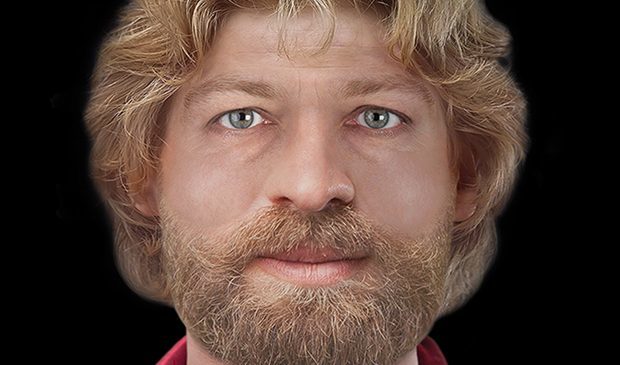 He is looking great considering he is more than 900 years old.
This is the face of Orkney's St Magnus.
The facial reconstruction has been made to help mark the 900th anniversary of his death.
It has been created by Inverness forensic artist Hew Morrison.
Mr Morrison's research has included studies of photographs taken in the 1920s of what is said to be the skull of the 12th Century Norse earl.
Before sainthood, Magnus Erlendsson shared the earldom of Orkney with his cousin, Hakon.
But Hakon's jealousy of his cousin's popularity on the islands led to Magnus being put to death.
The doomed earl's head was split in two by an axe. Miracles were said to have happened where Magnus was buried, including rocky ground changing into a grassy field.
Centuries later, in 1919, a wooden box with a skull showing a wound and an assortment of bones inside was discovered during renovations to St Magnus Cathedral in Kirkwall on Orkney.
A University of Aberdeen professor and an Aberdeen church minister examined the bones and determined that they must be Magnus' remains. The relics were interred in a pillar of the cathedral.
Mr Morrison said: "It is always really interesting to see how the finished reconstruction looks. It is an interesting process.
"When you have worked on these projects for a while, as I have been, you get an idea as soon as you see a skull of what the shape of face will look like. You get an even better idea when you add the facial muscles and tissues.
"It is always interesting when you do an archaeological project, you can't tell by the anatomy of the skull what the skin, hair and eye colour is, so there is an element of artistic licence."
He added: "I had heard the story when I was really young, my grandfather came from Caithness and I remember he told me the story of the skull inside the pillar in the cathedral and this stuck in my head.
"I managed to track down some photographs at Orkney Library and I went from there."
The University of Dundee graduate hopes that his work will be displayed during the annual St Magnus International Festival.