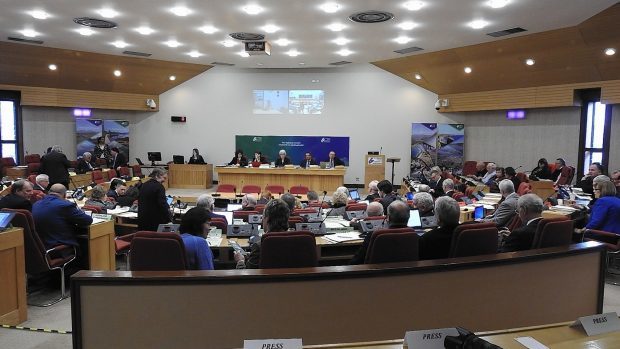 Highland Council last night delivered a tough budget with tax increases and service cuts for the man and woman on the street.
The end of the Scottish Governent's council tax freeze means householders will pay more for less next year to help plug a £20million funding gap.
And council leader Margaret Davidson warned of more austerity to come, indicating that similar savings were likely to be needed in each of the next two years.
A special meeting in Inverness confirmed the necessary funding for a £550million package, aided by the first council tax rise since an SNP freeze was imposed nine years ago.
There will be a minimum 3% council tax increase from April and additional Scottish Government-imposed burden on the 27% of Highlanders living in band E to H homes.
The tax increase will raise an extra £3.5million for the council.
In a pre-budget u-turn, the council dropped plans to reduce money it gives NHS Highland for adult care. That £1.2million will come from emergency reserves.
Councillors' long-held frustration over government funding overflowed with the SNP administration at Holyrood accused of "disrespecting" communities and councils by attemping to "mislead" people about the true scale of council grant.
The local authority issued a warning to NHS Highland chiefs that they should not expect a "blank cheque" towards integrated health services inherited by the council as part of recent reforms.
The council's finance director Derek Yule urged councillors to plan a long term financial strategy and to urgently replenish the authority's emergency reserves having dipped into the fund once again this year.
The pot has now shrunk to below £9million – less than half its value a decade ago.
Mr Yule said: "The scale of the challenge has been unprecedented. The level of changes in the last couple of months has been unprecedented."
Making a rare political comment, he said that through various referendums, elections and tax powers transferring to Scotland, "significant uncertainty" had been created leaving politicians at all levels "unable or unwilling to make long term financial commitments."
Councillor Davidson claimed that "from Durness to Dalwhinnie," council jobs had been saved, with special protection for education, roads maintenance and adult care.
She and several colleagues on other benches condemned the Scottish Government. Independent, Liberal Democrat and Labour members said increased funding from the UK Government had not been passed on by the SNP government in Edinburgh.
Mrs Davidson said: "What's been missing has been respect and fairness. I'm weary of the smoke and mirrors and having to check exactly what a statement means when it comes in front of us.
"It reminds me of George Orwell's novel '1984' and the 'Ministry of Truth'. Is that how we want to run our country – by spinning and running away with half-truths so people are confused?
"It shows a lack of respect for the public, trying to pull the wool over their eyes."
She said a late announcement of extra funding meant it was "a £20million cut instead of a £26million cut."
Labour group deputy leader Deirdre Mackay said: "This budget from Scottish Government proved difficult for seasoned public finance professionals to follow. Even the finance minister himself got into a boorach on more than one occasion.
"The least we should expect is a process that's transparent and informative, and this budget was neither."
SNP group leader Maxine Smith began her response to the budget statement by stating she was "not here to defend the Scottish Government".
She said: "We may be in the same party but I accept there has been some confusion. But I don't see the difference between the confusion in our settlement and the confusion in this fluidity of budget that's been (around) since December."
She argued that the council had failed to "poverty-proof" the budget to protect people in the most deprived areas.
Echoing that, Liz Gordon, whose GMB union represents several thousand council staff, said: "There will be fewer jobs and amenities for the most marginalised in our communities and more pressure on staff."
A spokesman for the Scottish Government said: "We've treated local government very fairly despite the cuts to the Scottish budget from the UK Government.
"Taking next year's settlement, including the extra £160million announced on February 2 plus the other sources of income available to councils through reforms to council tax and funding for health and social care integration, the overall increase in spending power to support local authority services now amounts to over £400million (3.9%).
"Highland Council's overall increase in spending power to support local authority services will amount to almost £20.4 million (4.4%).
"There has been a real terms increase of 2.4% in available support for local government services in 2017-18, in comparison to a real terms increase in the overall Scottish budget of 0.8%."