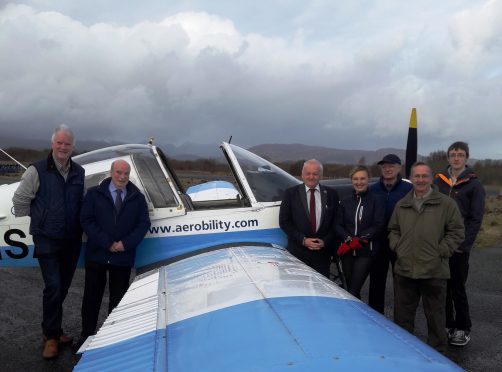 Organisers hope a new two-year agreement between Skye Flying Club and Highland Council for the aerodrome at Broadford will encourage more people to experience flying in this beautiful part of Scotland.
The agreement has been signed which will see the club continuing to use Ashaig aerodrome.
In the future the club is looking to purchase another plane. However in the meantime, they have been given the option to use a Bulldog.
This is the same type of aircraft that has been used by the RAF for flight training.
With the agreement of Highland Council, the club intends to construct a new taxiway from its hangar to the main apron to allow the plane to be based full-time at Broadford.
This particular two- seater trainer was previously used by Aerobility, a registered charity that offers disabled people the opportunity to fly an aeroplane.
It is the club's aim that, with Aerobility's agreement, they become a northern outpost of Aerobility, bringing flying to all.
The registered charity founded in 1993 offers disabled people, without exception, the opportunity to fly an aeroplane.
Skye Flying Club intends to hold promotional events in due course.
Anita Larson, club press officer, said: "It's an exciting time for anyone wishing to spread their wings, and see our island, from a different perspective."
Councillor Drew Millar, chairman of Highland Council's Isle of Skye and Raasay Committee, said: "The two year agreement now in place with Skye Flying Club will allow club members the opportunity to gain valuable take-off and landing experience as well as essential flying hours.
"Highland Council is seeking to secure chartered flights to Skye and council officers and project partners Hitrans and HIE have met with Hial to discuss all of the complex technical aspects concerned with new air services and licensing the Aerodrome.
"Over the next two years Skye Flying Club will be able to use the unlicensed Aerodrome with an opportunity to renew the agreement in 2019."