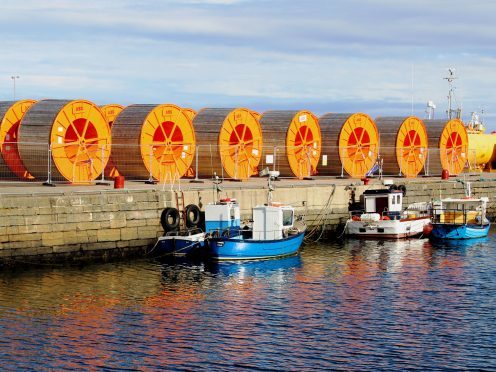 A £1.1billion project to create a new 100-mile undersea energy link between Caithness and Moray has taken another major step forward this week.
Rocks and boulders have been cleared from the seabed to make way for the two new high voltage direct current (HVDC) cables that are due to be laid.
It was the first in a series major offshore works due to be carried out on a scheme which represents the largest investment in the north's electricity network since the hydro development of the 1950s.
The route for the cable was cleared by the Siem Ruby vessel, which used a specialist subsea boulder clearance plough, and the same vessel will soon be used to create a trench for the line.
SSE Networks' link will be capable of carrying up to 1,200MW of electricity between Spittal in central Caithness and Blackhillock in Moray when it is up and running next year.
The cables will transport power generated by proposed wind, wave and tidal developments planned for the north Highlands.
They are due to be installed by a purpose-built cable laying vessel in two stages – the first from Noss to the midpoint of the cable route and the second from Portgordon.
Following the laying of the cables, the plough will be brought back and reconfigured to backfill the trench using the seabed material previously excavated during the trenching operation.
Lead Project Manager Brian Mitchell said: "This is a significant milestone for the Caithness-Moray project as the plough has literally cleared the way to allow our team to start laying the cables that will enable electricity to be transported between Caithness and Moray.
"Once complete, the Caithness Moray subsea link will significantly reinforce the north of Scotland transmission network and aid our transition to a low-carbon economy."
A recent study into the economic contribution of the project showed that it would deliver a £634.5million boost to the UK economy, supporting over 10,000 years of employment.
It is the largest capital investment project undertaken by the SSE Group to date, and the largest Living Wage contract ever awarded in the UK.