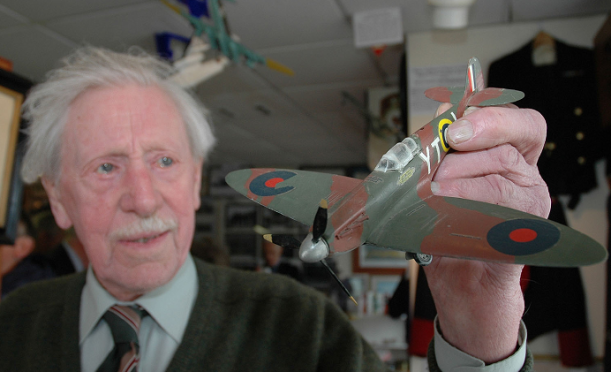 A former Spitfire pilot who launched Scotland's skiing industry has passed away – just a month before his 100th birthday.
Philip Rankin became known as the country's "godfather of skiing" after creating the first ski lift at Glencoe 60 years ago.
The World War II fighter pilot carried scrap metal and wires up the mountain by hand after "begging and borrowing" materials from the Glasgow scrapyard where he worked.
He was catapulted from his plane into the North Sea in 1945 after being shot down by a Luftwaffe bomber and lived to tell the tale.
And in February 1956 the new lift was opened marking the creation of the first commercial ski centre in Scotland.
On Sunday evening the 99-year-old died at his home in Ballachulish.
Announcing the news on their website, Snowsports Scotland said: "It is with deep regret and profound sadness that we announce the passing away of a valued member of the Snowsport community Philip Rankin at the age of 99.
"Philip Rankin was a founding force of the mechanized uplift in Scotland and passed away in the comfort of his own home yesterday.
"Philip was extremely grateful after receiving the Snowsport Scotland Lifetime award in November."
In November Glencoe Mountain Resort unveiled a new green run named Rankin's Return in tribute to the skiing pioneer.
Andy Meldrum, Glencoe's managing director, said: "He was a remarkable man with an amazing vision. If it wasn't for him snowsports in Scotland wouldn't be what they are today.
"He popped into the centre two or three times last year and was still up and about doing his gardening. It was only two years ago he stopped driving.
"From our perspective we are all hugely grateful for everything he's done for the skiing industry. We salute all that he did as pioneer to the sport of Skiing in Scotland." Philip, who was born on April 16, 1917, retired from running Glencoe in 1992 and was skiing right up until he was 83.
In 1960, he married Gudrun "Goody" Weiland at home in Helensburgh in Argyll and Bute.
They were together until her death in 2002 at the age of 75.
During the war he serves in Oxfordshire, Cairo, Calcutta and Rhodesia.
In one of his most recent interviews, he said: "I must have been the most expensive and useless pilot in the RAF, I think.
"I always arrived just after the battle was finished or left before it started. It wasn't until 1945 that I first scratched the paint on anything."