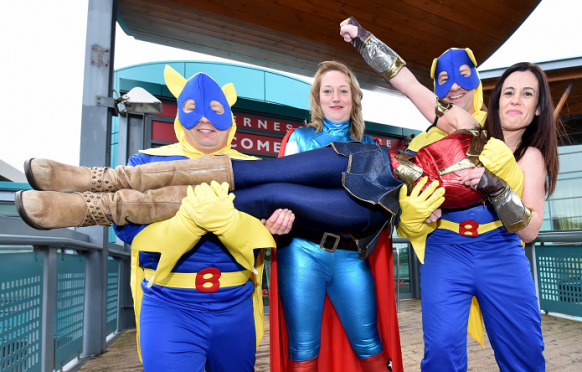 If you are visiting a Highland library or leisure centre this weekend you have a fair chance of bumping into Banaman, Wonder Woman or Superman.
Superhero costumes have been donned to promote an important safety message for children.
Highland Council's leisure unit has teamed up with the Inverness-based charity "Safe, Strong and Free" (SSF) which has been hosting a week of events.
The campaign aims to reduce the vulnerability of young children to abuse and assault.
The initiative has been visiting all Highland schools, using simple methods of communication for pupils.
A charity team is explaining to youngsters who the heroes would be in their local communities – such as their local police officer, teacher or coach or volunteer at their afters-chool club.
All the groups are trained and have procedures in place should a child disclose information about bullying, strangers or secrets.
The charity's Kerry Glen said, "We're really pleased to have High Life Highland (HLH) take part in Highland Hero Week.
"They're committed to training staff in terms of child and vulnerable group protection training, so it seemed a perfect fit to ask them to become involved in raising the profile of the event and therefore the work that we undertake.
"I'm delighted that HLH libraries and leisure centres across the Highlands are taking part to highlight the initiative."
HLH chief executive Ian Murray said, "We were aware of the great work that SSF undertake in nurseries across the Highlands in terms of helping children at an early age to understand bullying, strangers and secrets – and what is right and what's not."
All HLH staff are trained in child protection, many dealing with children and vulnerable groups on a daily basis.
Staff at HLH venues will be in superhero costumes in libraries and leisure centres across the weekend. And the organisation said customers were welcome to follow suit.