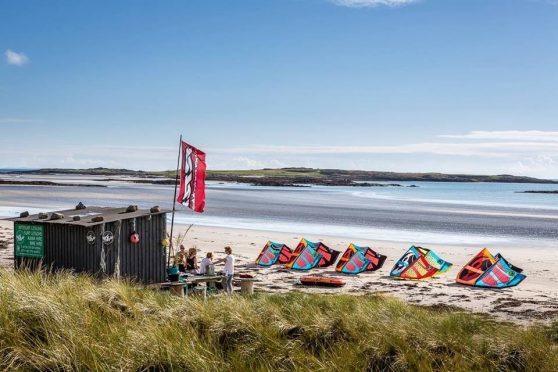 A bungle by Argyll and Bute Council resulted in a planning enforcement notice being served on the wrong company.
Argyll Estates Ltd was sent a notice on March 9 to remove the hut, run by husband and wife team Martin and Iona Larg at Balevullin Beach, which is land owned by Argyll Estates.
The local authority's planning department withdrew the enforcement notice last Thursday.
The hut was erected by the couple in May 2015 to help co-ordinate their business, Blackhouse Watersports, by providing changing facilities and storage space. However, it is now the subject of a planning appeal after councillors voted to refuse a retrospective planning application in February this year.
Their reasons were that a beach hut is not a prerequisite for a business of this nature, and that the proposal would be an "alien feature" on an unspoiled beach.
The facility is currently used by about 30 young surfing enthusiasts in the area.
Objectors say it will be a blight on the landscape, while supporters, including Mike Russell MSP, see them as a boost for the island's economy.
Yesterday a council spokesman said: "Following a procedural error, a Planning Enforcement Notice in relation to the beach hut at Balevullin beach, Tiree has been withdrawn.
"Officials will now take the appropriate action to progress the situation."
Mr and Mrs Larg have taken their case to the Scottish Government's planning and environmental appeals division which will decide the matter with a site inspection.
Business owner Mr Larg said the whole process had been "disheartening," and highlighted that the National Lottery recently backed a £5,000 grant for the surf club which would be used to buy equipment and help fund a first aid course for children in the summer holidays.
He added: "They (National Lottery) have recognised that we have a facility that is worthy of support and that it is a fantastic facility.
"I feel sorry for a lot of businesses in Argyll because it's one of these areas which has natural beauty but has always been such a deprived area. Me and my wife are trying to do the best we can and we value the surf club. It's positive and healthy and we are meeting government targets.
"Economically, we are supporting the holiday lets and this summer, one of the things we are doing is trying to teach the kids about the local environment and about how to make money through tourism."