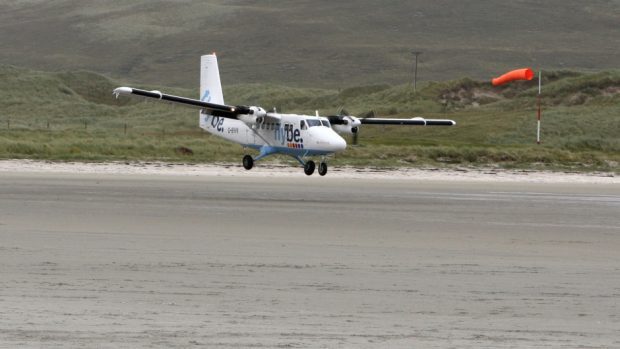 Jobs and safety fears were raised last night over plans for air traffic controllers to run flights to the Highlands and islands from more than 100 miles away.
Airport chiefs in the north were under fire after it emerged they were considering becoming the first in the UK to scrap local control towers and manage their flights remotely.
Trade union leaders claimed that dozens of jobs could be lost at airports such as Kirkwall, Benbecula, Sumburgh and Stornoway if local air traffic control was moved to Inverness.
Western Isles MP Angus MacNeil said most residents would be opposed to any reliance on remote technology in areas "where safety is of utmost concern".
And northern isles MSPs Tavish Scott and Liam McArthur have held a private meeting with bosses from Highlands and Islands Airport Limited (Hial) to express their concerns about the proposal.
Hial runs 11 airports at Barra, Benbecula, Campbeltown, Dundee, Islay, Inverness, Kirkwall, Stornoway, Sumburgh, Tiree and Wick, and employs about 55 air traffic controllers plus additional support staff across the network.
Last night, it said consideration of the proposal was at a very early stage and that no decisions had been taken.
Operating a remote digital tower – which would be expected to be based in Inverness – is seen as "the ideal concept for regional airports", allowing air traffic controllers to run several airports from one location, while saving millions of pounds in operating costs.
Sweden was the first country in the world to put remote air traffic control towers into operation, however so far they are not used in the UK, although there are trials being held by air traffic control service NATS.
But the systems are believed to rely on high speed broadband and stable power supplies, prompting concerns last night about their suitability for island and remote communities.
David Avery, negotiations officer for the Prospect trade union, said air traffic controllers and support staff had already been briefed by Hial on the plans.
He said: "By moving these jobs to an as yet undecided central location the communities around Kirkwall, Benbecula, Sumburgh and Stornoway will be losing skilled jobs that are unlikely to be replaced.
"Prospect is also concerned that the telecommunications infrastructure required to operate a remote tower set up does not yet exist in these areas.
"Outages are still a reasonably common occurrence but with skilled air traffic controller in situ the airports normally remain open. This would not be possible with remote towers."
After meeting Hial chiefs, Mr Scott, Liberal Democrat MSP for Shetland, said: "It needs some convincing that centralising this service in Inverness would provide advantages in aviation.
"If ultimately there cannot be a fail-proof communication system then I cannot see how the existing towers in the islands can be possibly taken away."
Mr MacNeil, SNP MP for the Western Isles, urged Hial to take the "sensible decision to reject this proposal".
He added: "The loss of any jobs in remote and rural communities would have a big impact and particularly skilled jobs.
"I'm not convinced that the idea of a remote control tower would appeal to many people given that it creates a reliance on remote technology in an area where safety is of utmost concern."
In a statement, Hial said: "Hial is currently in the very early stages of exploring opportunities presented by new and emerging air traffic technologies which could have the potential to enhance the sustainability and resilience of air traffic services across the operation.
"Our staff and other key stakeholders have been informed and will be fully involved in the process.
"The review will include an evaluation of remote tower technologies, centralised surveillance and controlled airspace.
"No decisions have been made at this very early stage in the process in relation to any change to the current air traffic provision at Hial-operated airports and the scoping study is not likely to be discussed by the Hial board until September at the earliest."