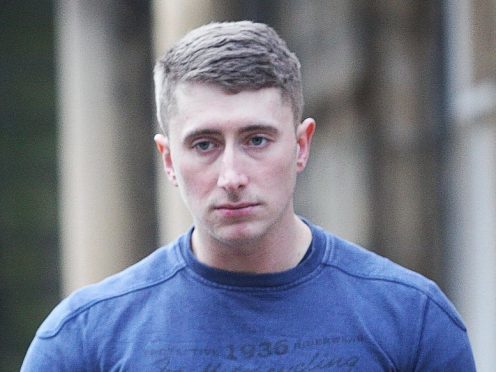 Police clocked a biker racing along a notorious Highland road at the speed a jet aircraft reaches on take-off.
Louis Rozier was charged with driving dangerously at 157mph, almost three times the national speed limit of 60mph on a mile long straight stretch of the A9.
But when the £40,000 a year offshore oil worker appeared at Tain Sheriff Court last month, he pleaded guilty to the slower speed of 135mph near Kildary on May 30, last year. Rozier was set to challenge the accuracy of the police speed check, the court was told.
Sentence was deferred for a background report until yesterday.
Defence lawyer Rory Gowans said Rozier was "no longer a risk taker and accepts he has responsibilities of a partner and a young child".
A jet travels at between 130mph and 180mph as it lifts into the air from a runway. The court heard Rozier reached 100mph in under five seconds on the Yamaha 1000cc he was test driving at dusk on a Monday evening last year.
Fiscal depute Fraser Matheson told Sheriff Olga Pasportnikov that the weather was fine and only one other vehicle was on the road at the time.
However he said there were lay-bys and junctions along the route where a police mobile speed check had been put in place.
"They saw the bike approaching and it was obvious it was travelling at speed very much in excess of the 60mph limit.
"When police caught up with him at a garage, they seized his bike and did not consider a fixed penalty was appropriate given the speed."
Mr Gowans added: "It is fair to say he wishes he could go back to May 30 and not have his few seconds of madness.
"He had arranged to meet a friend to buy a bike. He was trying it out and he was more used to a lower cc than this one which was 1000cc.
"He pressed the accelerator and he was not aware of the speed he had reached in such a short time. This bike can reach 100mph in around 5 seconds.
"My client accepts he needs to be punished for this but not in a destructive way. A custodial sentence would have an on-going effect for his family which would be devastating.
"He knows what is at stake here and a custodial sentence would result in the loss of his employment which he knows would be his own fault."
Sentencing Rozier to 200 hours unpaid work and banning him from driving for 20 months, Sheriff Pasportnikov said: "You could have died. It was a ridiculously high speed but I have listened to what your solicitor had to say and I will refrain from imposing a custodial sentence."