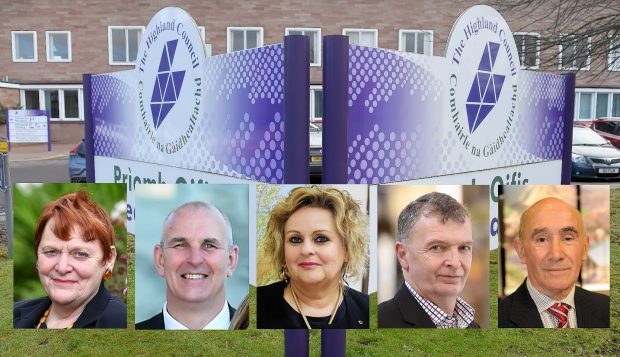 A new power-sharing alliance was due to take control of Highland Council today after the Independents struck a deal with the Liberal Democrats and Labour.
But the move provoked a furious response from the opposition SNP, who accused the Independents of "betraying" Highland voters and predicted "chaos" at the local authority.
The coalition deal – which was due to be confirmed today barring a last minute collapse in talks – paves the way for Margaret Davidson to be returned as council leader.
The Independent-Lib Dem-Labour pact will enjoy a fragile majority of just four votes, against an opposition comprising the 22-strong SNP group, 10 new Conservative councillors and a lone Green.
SNP group leader Maxine Smith said she had been "astonished" by the behaviour of the 28 Independents, who were left with their pick of coalition partners after the Lib Dems refused to work with the Nationalists or Tories.
She claimed that they had agreed to form an administration with the Lib Dems and Labour before speaking to the SNP, the largest political party group.
"I think it has done a massive disservice to the people of the Highlands, firstly by not negotiating with us prior to going into the Independent group meeting, and second by the fact that with 22 members we could have provided the most robust and stable administration," she said.
"I think it could be chaos. Independents are independent by their very nature, and some of the members of that group weren't part of the group last time and may decide not to be part of it.
"We also know the Lib Dems have a track record of walking away, so I think it could be quite fractious."
Independents formed a minority administration in 2015 after the Lib Dems quit a ruling alliance with the SNP and Labour groups.
The new coalition is expected to announce the terms of its deal today and a revamped front-bench team, with major gaps left after the shock election defeats of former budget leader Bill Fernie and education convener Drew Millar, both Independents.
Lib Dem group leader Alasdair Christie and Labour's Jimmy Gray are expected to land top jobs.
Last night, Mrs Davidson said: "We hope to make an announcement tomorrow, but I've got T's to cross and I's to dot."
Responding to Ms Smith, she added: "They are entitled to their view. We certainly discussed it with them and we gave them every chance.
"The Independent group met today and we were tasked to go away and negotiate with the Liberal Democrats and Labour groups and that is what we have done.
"The majority view of the group was that we didn't want to form a coalition with the SNP group."