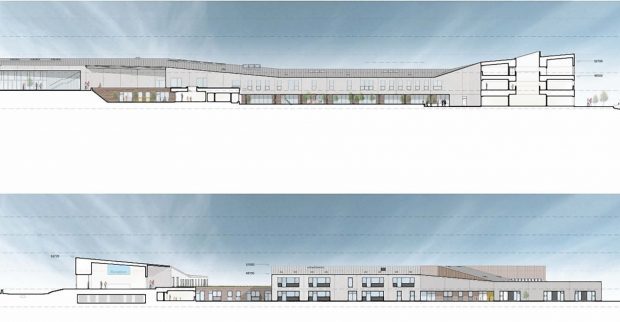 Plans for a new super-school in Tain have been put on hold after Highland Council agreed to look for a new site.
The U-turn follows concerns from local residents that the proposed site for the new 3-18 campus, next to the existing Tain Royal Academy, would prove too small.
It was announced yesterday that councillors will now be asked to agree to a new site selection review when the authority's newly formed people committee meets later in June.
The local authority said yesterday the decision was a response to "community feedback".
A planning application relating to the £52million school project has now been put on hold and the council is in talks with the Scottish Futures Trust and the Scottish Government who are part-funding the project.
Tain Community Council chairman David Macdonald said there had been no indication that the council was going to propose a rethink when this group met earlier this week.
He said: "I'm delighted. It's a victory for common sense and I'm pleased the council has chosen to listen to our concerns."
It was revealed earlier this year that the Tain Campus would be built on a site around half the size of the similar Wick Campus, which finally opened this year after several delays, despite having similar forecasted pupil rolls.
Mr Macdonald said there was concern about space for the pupils, poor design and transport issues.
He said: "This is a hugely important project for the future of Tain, it will have to serve two generations at least.
"It is so important to get this right and we look forward to working towards that."
He suggested an area of land near the existing Craighill Primary already in council ownership as a possible location.
Both projects involve a new secondary school and incorporating two primaries and a nursery – and in Tain pupils from St Duthus special needs school – as well as new community facilities.
Tain councillor Fiona Robertson said: "The council has listened to concerns expressed within the community about the use of the existing academy site for the new campus, and intends to undertake a new review to ensure that all current site options are re-considered.
"The new campus will be a vital community facility to serve current and future generations, and its important the council takes stock to ensure the location chosen is the most suitable, and takes account of community concerns."
Local MSP Gail Ross also backed the decision, having written to the council to express concerns raised with her.
She said: "I am glad that the council has listened to those concerns and have acted accordingly. What is important now is that the views of the community are listened to."