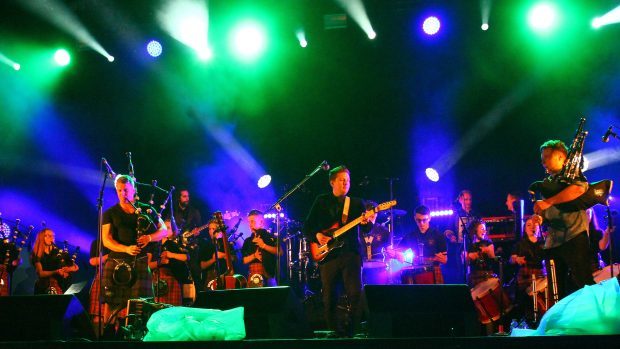 If variety is what you want from a music festival, this year's Oban Live had it all.
The weekend saw thousands of people turn out to the town's Mossfield Stadium to enjoy a vast range of sounds from Scottish hip hop, traditional celtic, 80s legends and noughties pop stars.
Organised and headlined by Skerryvore, 2016 Live Act of the Year, the band attracted the biggest crowd of the weekend as they brought the festival to a spectacular close on Saturday night with Oban High School Pip Band.
Earlier, there had been performances from Hue and Cry, We Banjo 3, Roddy Hart and the Lonesome Fire, Tide Lines and Oban Gaelic singer Kim Camie.
Saturday's openers were Scottish rap duo, and massive crowd pleasers, K9 Kev and Rory O'B.
Kevin Irvine and Rory O'Byrne, who both hail from Oban, were winners of the event's Oban Unsigned competition. The duo were voted for by the public and won a half hour slot at the festival.
Daniel Gillespie, managing director for Oban Live, said: "We achieved exactly what we set out to do which was to celebrate that infectious west coast spirit and culture and also welcome people from all over the world to experience and enjoy that with us.
"It was amazing to see even more local people from Oban and the surrounding area of Argyll attend this year, because the local backing was incredible.
"Unsurprisingly, the Oban community itself has again been amazing hosts, showcasing everything that is great about Argyll whilst bringing their wild sides and brilliant craic to the event.
He added: "We'll take time to review the event with the teams, then look forward to making an announcement on Oban Live 2018."
The event achieved a rise in footfall this year with more than 8,000 attendees over two days including visitors from as far as Russia and the US.
Friday started with traditional music from Ceol an Aire, the Argyll Ceilidh Trail, Trail West and Mànran, before a performance from Toploader, best known for their 2000 hit Dancing in the Moonlight.
The event was opened by special guest, 13 year-old internet piping sensation Gregor MacDonald from Oban High School.