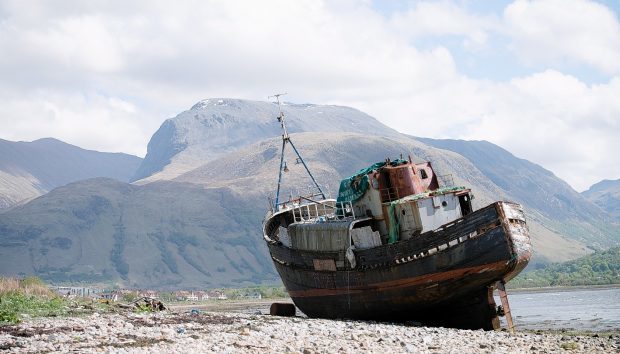 A major air and sea search was launched in the Highlands in the early hours of yesterday morning after a boat's emergency beacon was activated.
Coastguard teams, a helicopter and a lifeboat crew searched Loch Linnhe, Loch Eil and Loch Lochy for more than five hours looking for a vessel in distress.
But the lengthy rescue mission turned out to be a false alarm as the beacon was eventually found not far from a wreck at Corpach near Fort William.
Even though the fishing boat, the Golden Harvest, has been beached high and dry on the shores of Loch Linnhe for nearly six years, its distress beacon was still in working order and Coastguard officials believe it had become dislodged by either the weather or wildlife.
A Coastguard spokesman based in Stornoway said: "Our rescue teams at Fort William, Mallaig and Salen were paged at 1am and our helicopter based at Inverness was scrambled as well as the Oban lifeboat.
"They made a wide search of the area to try and locate the beacon, but it was eventually found at Corpach. The old fishing vessel seems to have been fairly stripped down so I don't know how the beacon was activated.
"The distress beacons on vessels send out a signal so that the location can be picked up and the light keeps flashing until the battery runs out. But this one must have been fairly old and well past its best.
"The crews got the call to stand down at 6.20am."
The spokesman added that he "couldn't take a guess" at how much the false alarm mission would have cost, but a spokeswoman from the Maritime and Coastguard Agency's head office said: "We never put a price on human life."
She added: "As far as we can tell, this was not a malicious hoax, but a false alarm with good intent. If we get a 999 call, or Mayday or beacon alert we treat it as real. Search and rescue resources will always be used rather than risk loss of life. But making deliberately false or misleading calls is against the law and we treat this very seriously."
The Golden Harvest – or the Corpach Wreck – was built in 1975 but ran aground on December 8, 2011 during a heavy storm and has been there ever since. But the old fishing vessel, with Ben Nevis in the background, has become one of the most iconic images of the area. Its photo has been taken by tourists from all over the world and it also features on the Outdoor Capital of the UK's website.