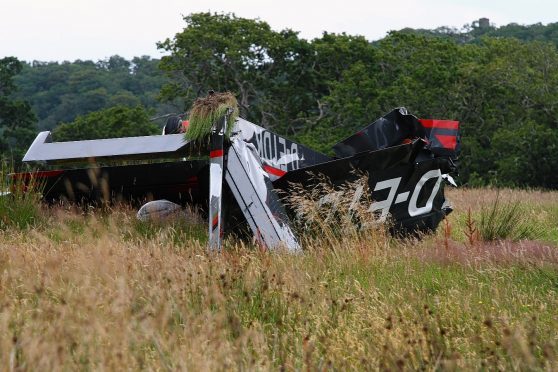 A plane crash near Oban Airport was caused by turbulence and communication issues, an official probe has found.
Two people were seriously injured after their Breezer B600E crashed into a field at Benderloch, around 1.5miles north-west of the airfield.
The collision happened on August 2 last year.
The 63-year-old pilot and his passenger were part of a group of eight aircraft which had flown from the Glenforsa airfield on Mull.
They are understood to have been from Germany.
Both suffered serious injuries but they did not prove to be life threatening.
An official probe by the Air Accidents Investigation Branch (AAIB) found that the crash was primarily caused by a stall after encountering an updraft.
The investigation found that the plane had had to slow down to increase the distance between itself and others in its formation for landing.
It was found that the formation leader told ground control at Oban that there were pilots in the group with "language differences" and requested permission for the the group to land sequentially.
However, this was refused on safety grounds – with the ground control saying that the group leader had been told on the phone before departure to leave a few minutes between each aircraft on take-off.
The pilot of the plane which eventually crashed reported seeing some of his flying partners begin to fly "unusual" lines to increase separation and he slowed to create a gap for himself.
The AAIB report said: "He flew along the north-western edge of a small inlet, parallel to a ridge which
lay upwind to the southeast of him, and, as he reached the end of the inlet, he encountered turbulence and lost control of the aircraft.
"Aware that his aircraft was descending rapidly at low level, the pilot activated the aircraft's ballistic recovery system at what he estimated to be between 600 and 700ft amsl and the aircraft struck the ground shortly afterwards.
"The pilot and passenger were seriously injured.
"The pilot did not make an emergency transmission on the radio and the remaining members of the formation were unaware that he had crashed."
The AAIB found that the group normally flew in formation which explained the issues in the air, with the leader concerned about language difficulties and some of the aircraft running low on fuel.
They fund that loss of control was because the aircraft was susceptible to turbulence because of low speed.
It was found that even with the recovery system being deployed, there was "insufficient time" to achieve a "stabilised descent" before it crashed.