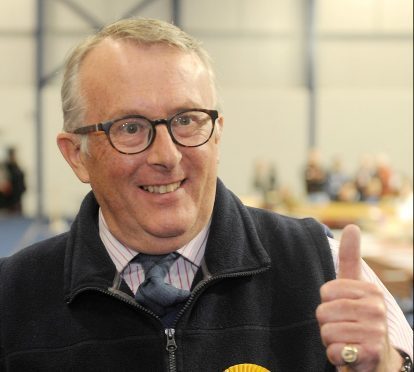 Jamie Stone has now completed the rare hat-trick of councillor, MSP and MP as the new member for Caithness, Sutherland and Easter Ross.
While the SNP comfortably retained its two other Highland seats, Mr Stone turned the tide further north.
He celebrated "relighting the beacon of Liberalism" in the northern-most mainland constituency after his dramatic victory over the SNP's fledgling MP Paul Monaghan.
Recapturing the seat after two short years in the grip of the nationalists, Mr Stone admitted surprise at the scale of his victory.
He acknowledged it was primarily because of a protest vote against controversial SNP-backed NHS reforms affecting local maternity services.
It was a passionate retort to the 2015 election that saw three Lib Dem titans ousted – John Thurso in Caithness along with the late Charles Kennedy and Danny Alexander.
Mr Monaghan, one of the first to arrive at Thursday night's election count in Dingwall, was too shell-shocked to expand on a pre-prepared speech accepting his fate.
He said it had been a privilege to meet so many of his constituents during his brief spell as an MP.
Congratulating Mr Stone, he said: "The people of Scotland are speaking and it remains time for their voice to be heard at Westminster.
"SNP MPs will be a strong voice for Scotland and will seek to work with others to help deliver progressive politics across the UK including an end to austerity."
Confirming he would relinquish the Tain and Easter Ross council seat he retained last month, Mr Stone said: "It is a source of colossal pride to me that I have played a part in relighting the beacon of Liberalism in the Highlands."
Bill Fernie, chairman of the Caithness Health Action Team that led the protest over NHS reforms, said the activists appreciated that health is a devolved matter but "people wanted to send a rocket to the SNP in Edinburgh – this was their chance, and they took it."
He said concern about Dunbar Hospital in Thurso and GP services in Lybster "may also have played a part."