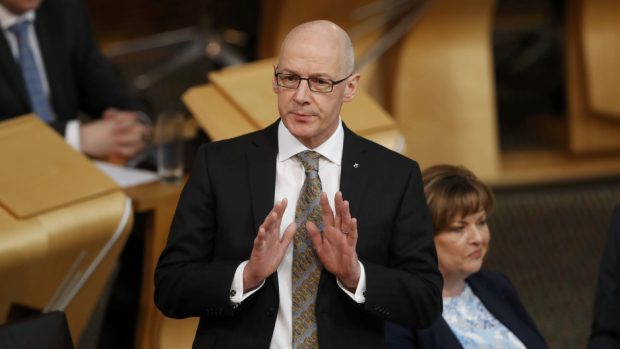 Parents will not be forced to accept advice from a named person, deputy first minister Mr Swinney has announced.
The U-turn comes following a Supreme Court ruling the data-sharing elements of the scheme were "'incompatible" with "the right to privacy and family life".
Mr Swinney has announced the Children and Young People Bill for state guardians will no longer include mandatory information sharing by the authorities about potentially vulnerable children.
Mr Swinney said: "The new provisions require Named Person service providers and other responsible authorities to consider whether sharing information is likely to promote, support or safeguard the wellbeing of the child or young person.
"They must also then consider whether sharing that information would be compatible with data protection law, human rights law and the law of confidentiality.
"Only if information can be shared consistent with these legal constraints will there be a power to share it."
Simon Calvert of campaigners No To Named Persons (NO2NP), which took the case to court, said: "The new proposals confirm one of the most remarkable, ignominious and expensive U-turns in the history of the Scottish Government.
"This is a huge victory for mums, dads and children across the country and the 35,000-plus NO2NP supporters.
"They have now been forced to accept that their original Draconian Big Brother proposals were an utter shambles from the start, representing an interference in family life and a fundamental breach of European human rights laws on privacy and information sharing.
"If they'd only listened at the start, they could have saved huge amounts of time and money.
"They now have to retrain those who have already been trained to implement an unlawful scheme."
Scottish Conservatives shadow education secretary Liz Smith hailed the move as a success for campaigners.
Ms Smith said: "The named person policy was a huge mistake from beginning to end which is why the Scottish Government has been forced into a major u-turn.
"The announcement today effectively means no parent will now be forced to accept the advice from his or her child's named person and refusal to accept advice will no longer be treated with suspicion by the authorities.
"The Scottish Conservatives believe the revised bill still raises many questions and it also lays bare the extent of the expense to the taxpayer of this ill-conceived policy."