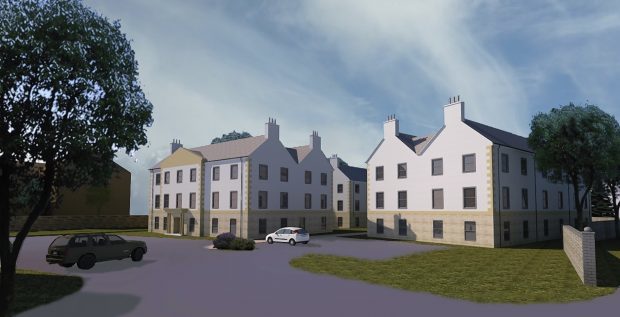 Plans have been approved for a luxury home development just yards away from a world-famous golf course.
Kirkwood Homes has been granted permission to build 24 apartments and four affordable homes on a site next to the Royal Golf Hotel in Dornoch.
Construction is due to start next month with the first completions expected in summer 2018.
Colin Crombie, managing director of Kirkwood Homes, said the company is "pleased" with the decision by planners to grant planning consent.
He added: "Dornoch is one of the most unique, beautiful and historic towns in Scotland and we have worked closely with the planning authority to ensure the development is of stunning quality to complement it's surroundings.
"Last year we launched our first development in the Highland region and this application pays testament to our long-term commitment to this area as we continue to expand our offering across Scotland."
Mr Crombie added that 30% of the development, located yards from the first tee of Royal Dornoch's championship course, has already been reserved.
The proposal has been reduced from the 33 apartments previously proposed by Dornoch Developments Ltd – a consortium of north businessmen who own the hotel.
In 2011, Dornoch Developments Ltd had plans approved for a 37-apartment complex but amended their proposals to reduce one of the three blocks from four-storey to three.
In 2008, plans were also approved for a nine-bedroom hotel wing and 11 apartments and the building of a spa.
The new flats will be for open market sale as opposed to a previous proposal on site, which involved a high degree of management by the hotel for their holiday use.
There will be two blocks of three-storey aprtments which will be modern in design with traditional stonework on the outside.
The two-bedroom apartments will be finished to high standards, complete with en-suite, bathroom, kitchen, utility and living/dining room area.
There will be another two blocks of two, semi-detached cottages on the site of a former tennis court across the road.
Highland Council planners awarded planning consent for the proposals on June 9.