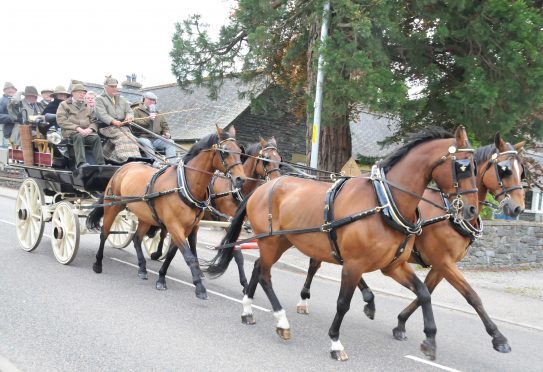 An Argyll town is in for a spectacle as four sets of horses and carriages drive through its main street delivering passengers to the annual agricultural show.
The Mid Argyll Show is to enjoy this new feature thanks to former Lochgilphead man Ewan MacInnes, of Maryculter Carriage Driving Centre near Aberdeen.
Taking place on Saturday August 12, the carriages will leave the village of Kilmartin at intervals between 10.45-11am and travel the eight miles to Lochgilphead along the A816 Oban to Lochgilphead road.
Mr MacInnes said: "We will stop at Bridgend on our way to Lochgilphead where we will assemble at the swimming pool and travel in convoy through the town to arrive at the show for 1pm. The journey could be completed in much less time. In days gone by 10mph was norm but we are not in such a hurry."
He added: "Having as a child just remembered seeing the Ardrishaig coach operator, Andrew Grinlaw, out with his horses and charabancs gave me the idea it would be good to bring the site of teams of horses alive again in Mid Argyll.
"Four teams are prepared to do this using two charabancs and two wagonette/brakes with the capacity to take 35 passengers, for a day out at the show.
"The other teams who have agreed to take part are from Bridge of Earn, owned by Richard Lanni, a second from Falkirk, owned by Alan McIndoe, a third from Stanley, Durham, owned by John Stevenson. The charabancs are being provided by Richard Hanson of Bradford, and Beamish Museum, Newcastle.
"It will be a great opportunity for the interested public to view the horse teams and carriages as they travel this historic route from Kilmartin passing through Bridgend to Lochgilphead and then to the show field at Kilmory.
"Once on site the teams will remain to allow attendees at the show the opportunity to see at close quarters the horses, the harness, the vehicles and the operators and interact with them."
Rosslyn Smith of the Mid Argyll Show committee said: "I think this will be great. It will be a really good thing for people to see and seats on the carriages can be booked through the show's Facebook page."