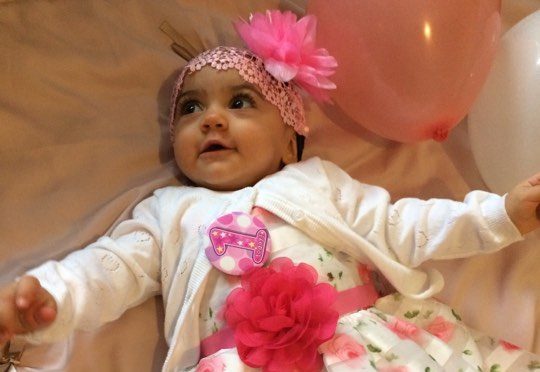 A miracle baby born dangerously premature has celebrated her first birthday by visiting the doctors and nurses who looked after her.
Proud parents Zerqua and Mansha Mohammed Shahid brought Hafsa to visit both Western Isles Hospital in Stornoway and the Princess Royal Maternity Hospital in Glasgow.
They wanted to pay tribute to the wonderful NHS staff who looked after them after Hafsa was born dangerously premature on Father's Day 2016 at only 24 weeks.
Her birthday was on Monday and Mrs Shahid said it was a very special one which they celebrated with family and friends.
The family live and Stornoway and Mr Shahid has this week submitted plans to build the first mosque in the Western Isles.
Hafsa, who weighed just 1.28lbs and was so small she could fit into her mother's hand, spent her first 19 weeks in hospital after being born in the Princess Royal Maternity Hospital in Glasgow.
Mrs Shahid said: "Hasfa's development is coming on well and her weight is now up to 13lb, which I put down to her reaping the benefits of being breastfed from birth. She doesn't really have any complications, although she does have weak bones, is taking bowel medication and has no peripheral vision due to eye surgery.
"Throughout Hasfa's progress we have been so grateful for the help we have received from NHS staff, both here in Stornoway and in Glasgow, and we can't thank them enough. To show our support we decided to fundraise, with all monies went direct to the Princess Royal Maternity Hospital's Neonatal Unit."
Head of midwifery at Western Isles Hospital, Catherine Macdonald, said: "Hafsa is such a happy and pretty little girl, it's wonderful to see her enjoying her first birthday this week and what a year she has had. When we recall how fragile and small she was when she was born, that's now all behind her and there's no stopping this little girl as we watch her develop and grow in her second year."
Mrs Shahid first became aware that Hafsa's arrival could be imminent when her membranes broke on June 19 last year. She attended the maternity department at Western Isles Hospital and was flown away by air ambulance that day to the Princess Royal Maternity Hospital.
It took 134 days of specialist care in Glasgow before Hafsa, which aptly, means, "humble baby lioness", was strong enough to return home.