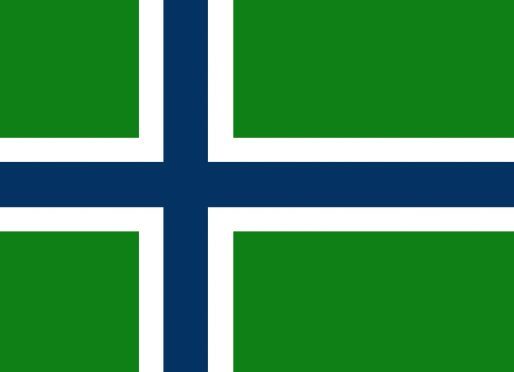 South Uist campaigners were celebrating last night after winning approval for the first officially recognised community flag in the Outer Hebrides.
The design will now be entered into the official records of the Court of the Lord Lyon, the heraldic authority for Scotland.
The flag is a blue Nordic cross, edged with white, on a green background, and is used widely on South Uist, including greeting arrivals at Lochboisdale Harbour.
Efforts to have the flag recorded were championed locally by former councillor Donnie Steele, who secured the support of the island's community councils, with funding for the bid provided by the community landlord Stòras Uibhist.
The petition to the Lord Lyon was also backed by the local authority and Western Isles MSP Alasdair Allan MSP.
The recognition of the flag is planned to be celebrated at the South Uist Games on July 19, with a flag raising ceremony to be held.
Barra residents are also campaigning for official recognition of their long established flag.
Last night, Mr Steele said: "I have been working on recognition for a year now, and I am delighted to announce that the flag of South Uist has been officially recognised by the Court of The Lord Lyon.
"Official recognition will be an enormous boost and can only enhance South Uist, which we must take full advantage of."
Mr Allan said: "It's great news that the community in South Uist will now have its flag formally registered in the Lyon Court and recognised as theirs.
"The flag is already widely used locally and I hope that this move will help promote South Uist's unique identity and strong community spirit."