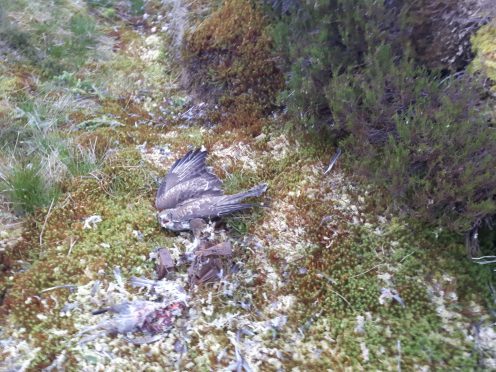 A buzzard has been freed after being found in an illegal trap in Inverness-shire.
The RSPB called the incident a "flagrant incident of raptor persecution" – while police are now investigating the incident.
The inspector leading the investigation said there had been "nothing accidental" about the trap which the raptor was found in.
The buzzard was found on the south slopes of Beinn Bhrac, above Strathdearn and the River Findhorn, in early June.
It was found by a member of the public, who released the bird – suffering a minor injury in the process.
Inspector Mike Middlehurst said: "It is very disappointing to have an incident like this reported, especially when there is a great deal of positive work going on in the Highlands to tackle wildlife crime.
"Unfortunately, there are some who continue to deliberately target birds of prey; there is nothing accidental in the setup of these traps.
"I am grateful to the member of the public who came across the bird and for their assistance in trying to free it.
"They were slightly injured in the process of releasing the bird and had the knowledge to photograph it."
RSPB Scotland said the discovery of the trap could give a clue about what happened to other tagged birds of prey which have disappeared in the area.
Ian Thomson,the charity's head of investigations, said: "Yet again, we have a flagrant incident of raptor persecution in the northern Monadhliath, an area that has become synonymous with wildlife crime in recent years.
"The indiscriminate use of illegal traps, such as in this case, gives a clue as to what may have happened to some of the satellite-tagged birds of prey that have disappeared in this area.
"Despite recent welcome announcements from the cabinet secretary for the environment, climate change and land reform, about investigating options for better regulation of gamebird shooting, there are those who continue to think that killing protected wildlife is a valid way of maximising their profits from grouse shooting, and are refusing to alter their behaviour."
Insp Middlehurst urged anyone who was walking or mountain biking in the area over the weekend of June 3-4 who may have information to make contact.
He said: "If anyone saw people or vehicles on these tracks that they thought out of place or acting suspiciously I would encourage them to contact us.
"Anyone with information is asked to contact Police Scotland on 101 quoting reference NN13977/17 or Crimestoppers on 0800 555 111 if you wish to remain anonymous."