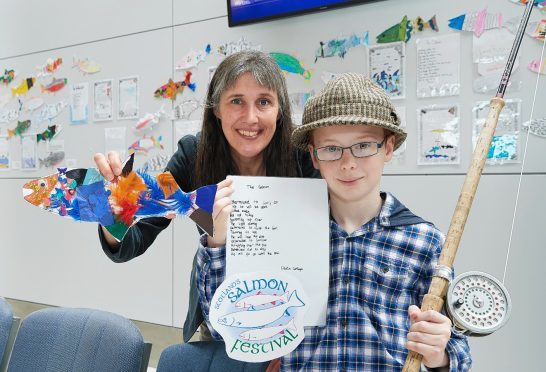 A unique collection of fish will be leaping out at visitors when they arrive at Inverness airport.
Youngsters from local primary schools were asked to create colourful pictures of salmon to mark the official countdown to a top event next month.
Scotland's Salmon Festival will be held in the Highland capital for the second time and the children's pictures of the iconic fish will be hanging from the ceiling at the arrival hall in the airport to welcome visitors when they arrive.
Around 200 pupils took part in Inverness College UHI's Salmon Run competition and, as well as creating colourful pictures of the fish, they also wrote poems which will also be on display along with a wall hanging created by students from the college's Community Link expressive art and design course.
Poetry entries were judged by Alan Scott, of Inverness Angling Club, Ian Blyth, a literature lecturer at Inverness College UHI, and Aoife Lyall, a poet and teacher at Culloden Academy.
Charlie Cartlidge, a P6 pupil from Balloch Primary School, was named winner of the P4-7 competition with his poem about the salmon's journey from freshwater to sea, and P7 pupil, Connor Hunter from Dalneigh Primary, was runner-up. Freya Swanson who is in P3 at Central Primary School took top prize in the P1-3 competition with her catchy poem, while classmate Lewis Dickinson was named runner-up.
The pupils received book tokens and all three schools have been invited to visit the Inverness College UHI Rivers and Lochs Institute's state-of-the-art laboratory at Inverness Campus.
Scotland's Salmon Festival took place in Inverness for the first time in 2015 and this year's events, starting on Tuesday, August 29, include a film night, conference, lectures, Inverness Angling Club's centenary Speycasting Tournament and a free fair at Bught Park.
The festival ends on Saturday, September 2.