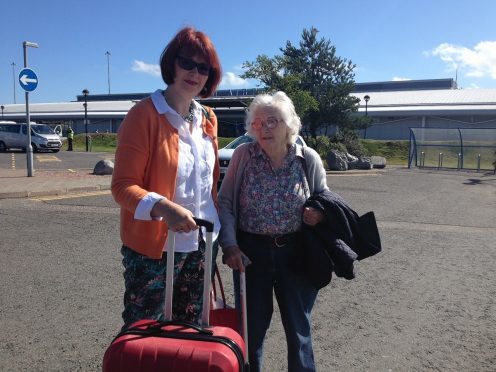 Airport operators have apologised after peak-time gridlock caused problems for passengers trying to park at Dalcross.
The problems at Inverness Airport left an 87-year-old disabled woman stressed fearing she would miss her flight.
She described yesterday's jam in the main car park as "a complete dog's dinner," and wanted to know why signs were not erected at the barriers to inform customers that it was full.
Caroline Elkerton, 87, who is currently undergoing treatment for secondary cancer, managed to make her flight but said she could have done without the stress.
Speaking after arriving at Luton, the former castle tourist guide said: "It put me into panic mode because when you've got a flight to catch you just want to get there and check in.
"Why didn't they have anybody outside dealing with it, informing people that the car park was full?"
She had been driven to the airport by her daughter Emma Elkerton Swan, 59, who said: "My mother can't walk any huge distance. It was chaotic. What astonishes me is they know the schedules, they have a fair idea how many passengers are coming through because people book online.
"There didn't seem to be a reason for the chaos other than the fact there were too many people trying to get into the car park at once."
Ms Elkerton Swan headed for the next car park only to learn at that barrier that it had been taken over by a car-hire firm that refuses access to other vehicles, leaving her having to reverse into one-way traffic.
Airport operator Hial recently extended a parking area on the north side of the complex. It was also busy at that time.
A spokesman for Hial said: "During the period we've been working on extending the car parking spaces, there have been some peak-period issues – which clearly impacted on Mrs Elkerton.
"We'd like to apologise for the inconvenience caused. The airport team will review the signage at the airport following the incident to help avoid a repeat of the issue.
"Inverness Airport is witnessing a significant surge in passenger numbers at the moment and we've created an additional 200 parking spaces to reflect that demand.
"It's our aim to deliver high levels of customer service for everybody who visits and uses the airport, and the team will continue to monitor the parking situation closely."