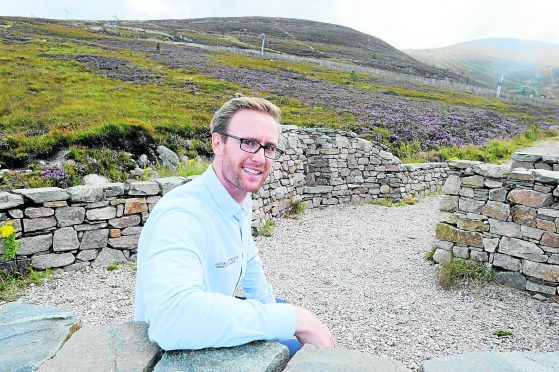 Members of the public have spoken out after viewing the £4million plans to turn the Cairngorm mountain snowsports resort into a year-round attraction.
An artificial ski slope would be built close to the base station at a cost of about £1.5million, while the remainder would be spent on extending the Ptarmigan restaurant at the top.
But some residents say the money could be better spent on a specialist machine, a TechnoAlpin Snow Factory that makes icy snow from water in warmer conditions, which they say would enable more skiing from the middle of the mountain.
Yesterday, during a public drop-in session at the base station, Adam Gough, head of technical services for Natural Retreats, confirmed the company aims to submit its plans within the next two weeks.
He added: "Optimistically, we would like to be operational by this winter. Installing the slope is quite quick, usually about six to seven weeks, but getting the window of weather to prepare the ground can be a problem.
"There is a business case here as it means being less reliant on snow for beginners and getting summer activities going on, and it could free up the main slopes from an advanced skier point of view."
Mr Gough explained that, due to less snow last year and high wind conditions, about 2,000 lessons were cancelled which he said highlighted a major advantage of the artificial slope.
Andrew Lockerbie, CEO of British Association of Snowsport instructors, stated an artificial slope would be an "excellent addition".
He continued: "In order for Cairngorm Mountain to be sustainable throughout winter and summer, it's a great initiative. We have sent in a letter of support."
However, the secretary of Aviemore Business Association, Alan Brattey, said: "The business association membership don't believe the building of an artificial slope on Cairngorm Mountain will do anything for other businesses in the wider Strathspey area."
He argued that 125,000 people have visited the Cairngorm funicular railway for each of the last five years which means a steady stream of visitors in the summer to fill hotels, and suggested beginners from as far as Glasgow or near as Inverness won't be drawn by the artificial slope, adding: "We don't think it will succeed."
Architect Janice Reid, of Threesixty Architecture, responded there would be a beginners and intermediate slope and that reports showed the surface, also used at Aberdeen Snowsports Centre, is the best for beginners.
But Mr Brattey criticized the in-built "misting" system which recycles water to keep the surface slidy, suggesting it would freeze over too often in winter and make the slope inoperable.
Mr Gough replied the manufacturers have given them assurances that this would not be an issue.