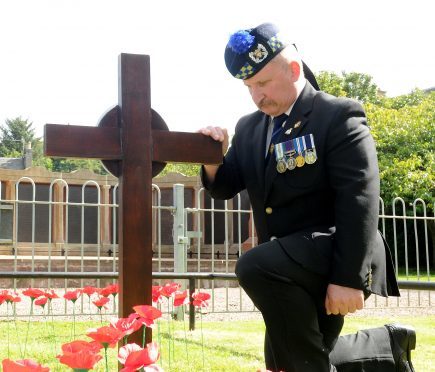 Current and retired servicemen and women joined a moving tribute in Inverness yesterday to those killed in one of the bloodiest battles in history.
The Passchendaele memorial service at Cavell Gardens was the latest in a series of WWI centenary commemorations.
The council and Royal British Legion Scotland-hosted service marked the Belgian battle that raged from July 31 to November 6, 1917, in which Britain lost 310,000 men and the Germans 260,000.
The service was conducted by the Rev Alastair Murray, padre to the legion's Inverness branch.
Inverness High School pupils Jamie Fraser, Cameron Lewis and Steven Spencer each gave readings during the service.
Wreaths were laid and a 3ft wooden memorial cross remembering Passchendaele was installed as a new fixture at the city's cenotaph.
Addressing the congregation, council convener Bill Lobban said: "Of all the costly campaigns fought across the Western Front during WWI, none strikes a more chilling chord than Passchendaele."
Giving a harrowing historical account of the period, legion branch chairman Paul Wilson said that, even a century later, "the very mention of the name Passchendaele is enough to conjure up apocalyptic images of desolation, misery and courage on a quite bewildering scale".
He recounted how, the Allies used 3,000 guns to bombard German lines, at one stage launching more than 4.5million shells over 10 days.
In early November 1917, after three and a half months of fierce fighting in the heaviest rain for 30 years, British and Canadian forces finally took control of the village of Passchendaele.
But the British and Empire forces had advanced barely five miles.
Throughout the war, the Scottish presence in Flanders was constant.
Between 31 July and 10 November 1917, all three Scottish Divisions were on the Western Front. The 9th (Scottish) Division, the 15th (Scottish) Division and the 51st (Highland) Division were all engaged at Passchendaele.
Passchendaele has come to symbolise the horrors and human costs associated with major WWI battles. Some 90,000 bodies were never identified and 42,000 men never recovered.