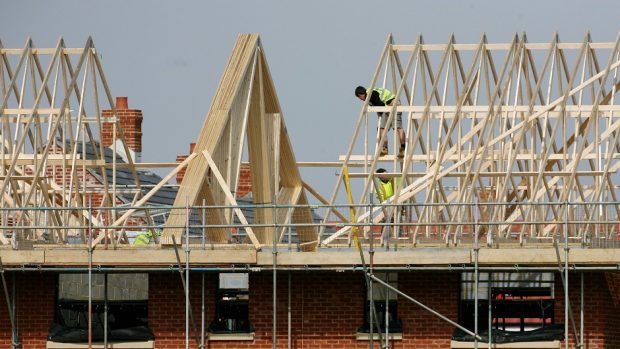 Thousands of new affordable homes are to be built in the Highlands as action is promised to address "considerable" shortages.
Highland Council's ruling administration is poised to pledge to "ramp up" house-building to deliver 2,500 new low-cost houses over the next five years.
The Independent-Liberal Democrat-Labour alliance has put the 500 homes a year target at the centre of the administration's newly-published programme for office.
The move emerged as figures from the Scottish Government show that the region is in line to receive more than £125million over the next three years to deliver ambitious affordable housing targets.
And Lochaber Housing Association has also unveiled plans to build 400 homes in Fort William to ease pressures as the town prepares to welcome an influx of workers at a new car wheel production plant.
After revealing the administration's target, Highland Council leader Margaret Davidson said: "We had commitments before for housing but this is more than we've ever had.
"We're really keen to ramp up house-building – the need doesn't go away. We've got a considerable need.
"We need to house our people. We can't retain young people and attract professionals if we can't house them."
The homes would include housing association properties, rent-to-buy and council houses.
Mrs Davidson and her administration colleagues now plan to go out and consult communities before unveiling further details of its programme in October.
Having been blighted by depopulation for decades, the Highlands has reversed the trend in recent years, with almost 26,000 people having been added to the region's population since the turn of the century.
But the rise has exacerbated the housing shortage in many communities.
Highland Council's vice convener Allan Henderson said the authority's grim financial position and over-committed capital budget meant the housing target "could have very well been scaled back", but that it remained a key priority.
"It won't close the gap but it will go a good way towards it. We can hardly keep up with the number of houses that are needed," he said.
"Inverness is a growing city and Fort William is on the up too, particularly with the works planned there.
"It's just about getting roofs over people's heads."
The council administration's commitment was made as Caithness, Sutherland and Ross MSP Gail Ross hailed new figures from the Scottish Government on affordable housing funding over the next three years.
She said: "The announcement that the Highlands will receive over £125million over the next three years provides the certainty that the Highland region and the house building sector needs to keep progressing and ensures we keep up the momentum to reach the Scottish Government's target of 50,000 new affordable homes by 2021."
IN FORT WILLIAM…
Plans have been unveiled for 400 affordable homes in Fort William as the town prepares to welcome an influx of workers.
Lochaber Housing Association has lodged a screening application with Highland Council ahead of a bid for permission to build the homes near Lochaber Road, Upper Achintore.
About 50 homes have already been built at the site, and Housing Minister Kevin Stewart announced plans in July to invest more than £1million on another 200 affordable properties there.
Now it has emerged that the total figure could be double that, with the housing association planning to develop the site for a "phased erection of approximately 400 units for mixed tenure affordable housing".
The move emerged as Liberty British Aluminium invests hundreds of millions of pounds in the area, buying up Fort William's smelter and preparing plans to create a new car wheel production factory, which would produce a quarter of all UK car wheels and employ 300 direct workers and another 300 in supply chains.
Caol and Mallaig councillor Allan Henderson, vice convener of Highland Council, said: "We've had that land available for a good number of years but now the funding is potentially available for that development as well."