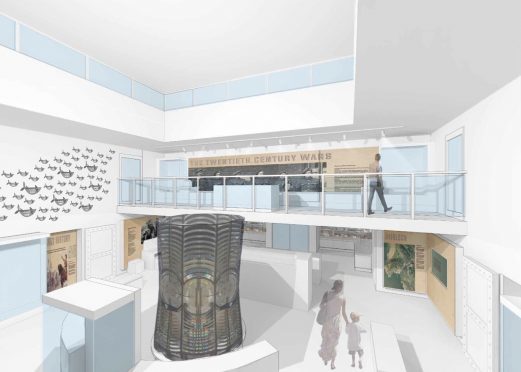 Stars of the hit drama Outlander have lent their support to Gairloch Heritage Museum's fundraising efforts.
A crowdfunding campaign has been launched to raise the final £60,000 required for the new museum.
The funds raised will secure the long-term future of the museum's collections and the cultural activities it offers. It is hoped the new premises will open in early 2019.
It has teamed up with Adhamh O'Broin, Gaelic consultant for Outlander, to offer some rewards.
Some of the goodies up for grabs include a limited number of Gaelic dictionaries, signed by members of the Outlander cast including Sam Heughan who plays Jamie Fraser, and Gaelic lessons with Adhamh.
People will also be able to purchase inscribed metal plaques inspired by the Gairloch Pictish fish which will be part of a large installation that will take pride of place in the new museum.
Adhamh said: "Not many people are aware but Gairloch and Wester Ross have played an integral part to the creation of the TV series, Outlander. We use the Wester Ross Gaelic dialect throughout the series and I often called upon Gairloch man, the late Roddy Mackenzie, for advice when we were on set.
"Roddy, who was also heavily involved in the Gairloch Heritage Museum, helped us by providing accurate translations and local sayings to ensure we were portraying the language as authentically as possible. Roddy worked very closely with Roy Wentworth when Roy was compiling the well-known dictionary, Faclan is Abairtean à Ros and Iar – Gaelic words and phrases from Wester Ross – which also proved invaluable to myself and the cast whilst filming."
Dr Karen Buchanan, museum curator, added: "The total cost of the project is just over £2million of which our community of supporters aims to raise 10% with the remaining 90% coming  from public and private sector trusts, including the Heritage Lottery Fund.
"The new museum will feature expanded displays, and improved access to our collections and archives. The museum hosts the first Pictish stone found on the west coast mainland of Scotland, and its Gaelic language and literature resources are highly valued by Gaelic scholars. There will also be more space for exhibitions, and incorporate a cafe and a shop.
"The upgrade to new premises will see the creation of a number of new jobs and training opportunities for the area."