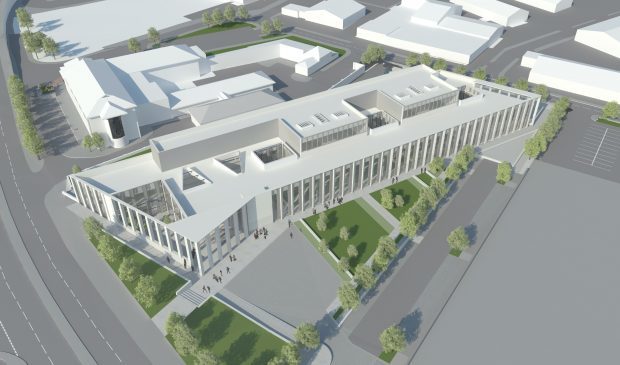 Councillors will consider revised plans next week for a new £23million Inverness Justice Centre.
Planning officials have recommended approval of the application for the complex at a site near Burnett Road police station on the Longman Estate.
The amended proposals by the Scottish Courts and Tribunals Service (SCTS) comprise courts, offices, cafe, 47 parking spaces, 36 cycle spaces and ancillary accommodation.
Changes to be considered by the council's south planning committee on Tuesday include a reduced floor area, altered external design – from a two-wing v-shaped venue to a single building and more open space.
The centre would allow the courts service to leave Inverness Castle and allow that to be transformed into a fully-fledged tourist attraction.
The revamp, which went to public consultation in June, was warmly received by the Inverness Design Review Panel.
The architecture watchdog concluded that the vision offered "a sound design solution" that would deliver "an elegant, effective balance of form and function."
The centre had previous planning permission. Construction work is expected to begin at the former bus depot in the autumn with completion scheduled for summer 2019.
The venue would offer specialist facilities to support victims and witnesses of domestic abuse, sexual violence and child abuse, and a focus on tackling the cycle of reoffending.
It would also pave the way for High Court cases to return to the Highlands for the first time since 2013.
Concern has been registered among the legal fraternity that a shared underpass nearby would be accessed by the accused and witnesses, posing a potential public safety issue.
A spokesman for the SCTS said: "There are alternative routes to the site that don't require the use of the underpass. We will work with the council on local infrastructure improvements."