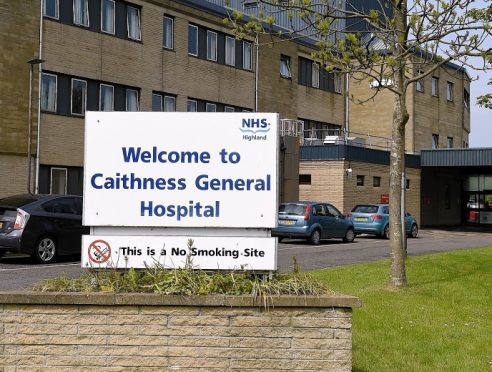 Fears are growing in Caithness that a hospital will soon close its doors as part of an NHS Highland review.
Inpatient bed numbers at Wick's Town and County Hospital and Thurso's Dunbar Hospital, as well as at Caithness General Hospital, are being audited.
The topic is discussed in a capital programme update due before NHS Highland board members next week.
It highlights plans for a revamp of Caithness General Hospital in Wick, with a business case being drawn up to modernise the interior of the building, alter the "cramped" A&E and address the "too small" outpatients area.
However, there are no assurances over the future of the other two hospitals in the area, with the report proposing a "review of the current provision of hospital inpatient services across three sites and move to more community based services".
A public consultation is expected in November and NHS Highland insist no decision will be made before then.
But bed numbers have been cut and admissions stopped in recent weeks at both the Town and County and Dunbar hospitals due to a "staffing problem", said a spokesman for the health authority.
The Town and County Hospital has inpatient transitional beds and cares for people with life-limiting illnesses, with two purpose built palliative care suites established during the last few years.
Last night, Caithness Health Action Team (Chat) member and local councillor, Nicola Sinclair, said: "The sense is that the Town and County is going to close.
"What they (NHS Highland) are hoping to do is deliver palliative care at home but they don't have enough care at home staff.
"There is a great deal of concern within the community and the community are deeply attached to the service delivered by both of these hospitals."
The NHS spokesman said that less than one-in-five people requiring end-of-life care receive it in a hospital setting.
Caithness, Sutherland and Easter Ross MSP Gail Ross said the community was "losing faith in NHS Highland" and is "concerned over the future of the Town and County Hospital".
She added: "I want to be as clear as I can: the wording of these board papers must not be a roundabout way of authorising the closure of hospitals without the outcome of public and clinical consultation being ascertained.
"Engagement and consultation must be done in a constructive and meaningful way, with its only outcome being the service provision for Caithness.
"Many members of the public in Caithness are already concerned that this decision has already been made and that they are losing hospitals and services purely because of financial reasons."