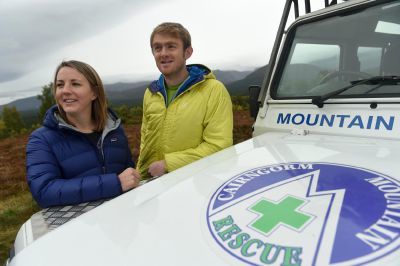 The newest recruits to Scotland's busiest mountain rescue team have certainly proved they are in peak practice for the job.
Husband-and-wife doctors, Iain and Gemma Munro, went on training with Cairngorm Mountain Rescue Team for the first time yesterday.
They said they were delighted to be joining the volunteer rescuers, particularly in the build-up to the busy winter season when there is most need for their services.
Given their surnames, you might expect the Munros to be excellent mountaineers – and they have proved that by climbing abroad, including in the Alps.
The Aviemore-based couple joined Cairngorm MRT at the weekend.
It brings the total number of doctors among the 42 rescuers to six, with Duncan Scott, Boyd Peters, Gill Irvine and Chris Robinson also part of the group.
It now means that there should be at least one doctor on every rescue.
In fact, the team probably now boasts more GPs than any other mountain rescue organisation in the country.
Team leader Willie Anderson joked: "We have more doctors than the NHS.
"In addition, virtually all our team members are qualified in first aid at varying levels.
"Iain and Gemma are very experienced mountaineers and are ready to go out on rescues now. They will be very good assets for the team.
"It is very important on rescues to get the injured into the hands of professionals as quickly as possible. It can be the difference between life and death.
"And now, with six doctors in the team, we should be able to have at least one of them on most call-outs, which is tremendous."
Mr and Mrs Munro work at the Forres Health and Care Centre GP Practices, but Mr Anderson said their hours mean they will be available to the Cairngorm team on a regular basis.
He added: "It has been a quiet summer – although we have had a few rescues to keep us busy, we have now started our winter training, getting ready for what will inevitably come.
"That includes things like avalanche training, working with the rescue helicopter and winter techniques.
"We deal with about 50 call-outs a year on average – most of them in the winter.
"So this is the time we are getting ready for the season ahead."