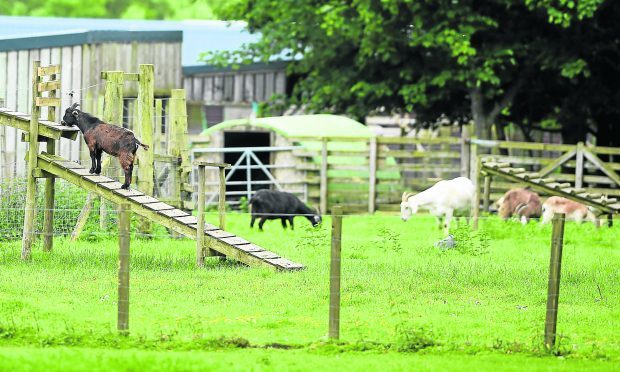 A controversy-hit petting zoo in the Highlands is on the brink of being sold to new owners.
It is expected that the Black Isle Wildlife and Country Park, near North Kessock, will reopen next year after its transfer to a "big company" is completed.
The move emerged after Highland Council revealed yesterday that its licensing committee had suspended the park's public entertainment licence on "public safety grounds".
More than 130,000 people had signed an online petition calling for the petting zoo to be shut down after two former employees compared it to an "abandoned prison".
But bosses at the park said they supported yesterday's decision to suspend its licence, and that they hoped it would "draw a line" under the recent row over the treatment of its animals and give the new owners a fresh start.
The attraction lost its zoo licence last year after a series of damning inspections and complaints from visitors relating to dead animals, inadequate feeding and cages in poor state.
Subsequently, owners Eric and Maureen Maxwell used a loophole enabling them to operate without a licence by scrapping the entry fee and relying on donations – although most exotic species were re-homed.
The local authority's licensing committee renewed the park's public entertainment licence last November but suspended it after a private hearing.
Council investigates fresh animal neglect claims at local wildlife park
Park manager Alison Gallagher said it had been a "mutual" decision, adding: "I agreed with everything they were saying at the meeting.
"We are in a transition period at the moment with the possibility of a forthcoming sale. The park has been closed for a week – that was my decision to close it a bit early.
"There will be a new management structure in place in the near future and the park will possibly re-open.
"It was nothing at all to do with animal welfare or health and safety with the decision today. It's personal issues and the fact we're going through a transition."
She added: "The animals are still going to be the first priority. I'll still be there every day making sure things are looked after.
"Let's draw a line under this bad animal welfare thing and let the old owners enjoy their time until the proposed owners take over and see what they want to do."
Sandra Dingwall, who worked at the park for nearly a year and kept a detailed diary of her concerns about the poor conditions of many of the animals, had repeatedly raised the issue with various bodies, including the council.
She said: "It is really good news it will be sold. But what I want to know is what is happening to the animals?
"How are they going to monitor that all these animals are properly looked after?
"The council have just not been giving answers. My fear is that these issues will be consigned to history without redress."
A Highland Council spokeswoman said the suspension was made "on the grounds of public safety pending the submission of satisfactory management arrangements".