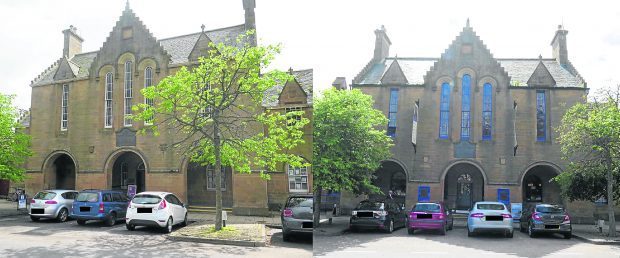 An American businessman has lost his appeal to the Scottish Government to keep the blue painted doors and window frames of a former sheriff court building in Sutherland.
Todd Warnock transformed the 165-year-old building in Dornoch into an upmarket tourist attraction, The Carnegie Courthouse, which opened last summer.
The B-listed building, which had lain empty for years, now contains a tearoom, deli, whisky shop and spa, as well as a new tourist information centre and a town service point which the community raised £20,000 to keep.
Holyrood plea as officials seered over building's blue paint
The formerly white window frames and sills, brown doors and disabled ramp handrails were painted a shade of blue – called Pantone 2746C – in time for the opening.
But a retrospective planning application for listed building consent to repaint these external features was refused by Highland Council planners in May, on the grounds it is "aesthetically inappropriate" and has a "disruptive impact" on neighbouring buildings.
The applicant argued the new colour identified a "new, positive use" for the building which provided local social and economic benefits in Dornoch.
However, Scottish Government reporter Elspeth Cook states in her refusal letter, issued this week, that the colour change has "had a significant effect" on the building's "appearance and its architectural integrity."
She added: "It disregards the original architectural approach, introduces an inappropriate modern colour and undermines the previous efforts made to minimise the effects of adapting the building to meet modern requirements.
"I find this shade of blue with its purple tone, designed for use in marketing materials, historically inappropriate on a stone building of this age and character."
In response to one of Mr Warnock's arguments that dark blue has been used on other doors and windows in the conservation area, Ms Cook said: "These examples are generally representative of the use of colour on small areas of architectural detailing."
She also considered advice set out in Historic Environment Scotland's Managing Change document on windows, which says light coloured windows on historic buildings are "prevalent" but "reinstatement of earlier colour schemes is encouraged if evidence exists."
East Sutherland and Edderton councillir Jim McGillivray said: "It's a shame because I was just getting used to the colour, but what I think is a warm and welcoming colour is maybe not what fits under the rules."
Mr Warnock's options include repainting in line with the previous colour scheme or appealing the decision through the court of session.
He was unavailable for comment yesterday.