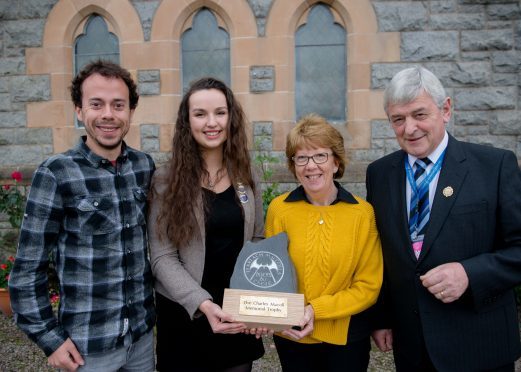 Special tributes are being paid during the Gaelic cultural festival to the man known as the Modfather.
Ten years ago, when the Royal National Mod was last held in Lochaber, Charles MacColl was the convener of the local committee.
Known by everyone as Charlie, Mr MacColl sadly died in December 2015.
But his memory lives on at this year's event as a trophy in his name was presented to the overall winner of the traditional Gaelic singing competition for 16 to 18-year-olds yesterday.
Claire Frances MacNeil, 17, a pupil at Lochaber High School, had the highest overall mark.
Mr MacColl's widow, Mairi, said: "Charlie loved singing and his primary focus was to bring on young people. The trophy was specially designed by John Hearach MacDonald who comes from Inverness and it is made out of Ballachulish slate.
"The Mod was always a sacred part of Charlie's diary – he wouldn't miss it."
Mrs MacColl added: "It is really fitting that a Lochaber girl has won it for the first time. Charlie would be smiling."
Claire Frances said: "It's an honour to receive this trophy, especially as Mr MacColl was such a renowned figure here in Lochaber. He used to sing at ceilidhs when I was wee."
Claire Frances also won the Iain Morrison Memorial trophy for gaining first place in the traditional singing contest for 16-18-year-olds.
The talented girl has had a very successful Mod already, winning the under 18 fiddle competition and coming second in the prescribed singing contest.
She will also be singing with the Lochaber Gaelic Choir on Friday. Duncan Macleod, 17, from Bonar Bridge in Sutherland, won the Neil MacLaine Cameron memorial trophy in the traditional singing contest for boys aged between 16 and 18.
A second tribute to Charlie MacColl will be held tonight when a ceilidh is held in his memory. His son, well-known piper Calum MacColl, said: "My father just loved the Mod – in fact he was known throughout this area as the Modfather.
"When he was convener of the local committee 10 years ago, he held the convener's ceilidh on October 18 in the old Caol community centre. That's why a ceilidh in his memory will be held today, October 18, but this time it will be held in Kilmallie Community Centre beginning at 7.30pm."