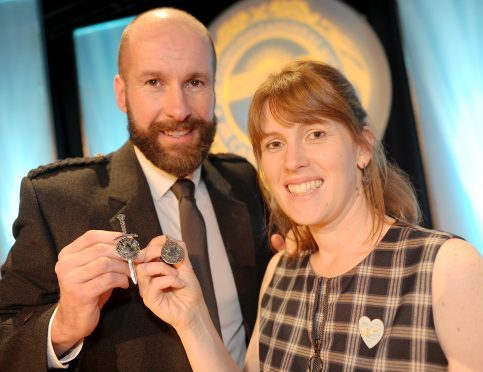 A primary school teacher and a football development officer won the prestigious Silver Pendant competition at the Mod yesterday afternoon.
A total of eight singers – five ladies and three men – qualified for the final of the top event held at the Nevis Centre in Fort William.
But the quality of Ishbel Campbell and Coinneach MacLeod's singing so impressed the judges that they were awarded the top accolade.
VIDEO: Youngster interrupts her holiday to win clarsach competition
Both had qualified for the final earlier in the day at St Andrew's Church in the town with Mrs Campbell winning the Margot Campbell Trophy and Mr MacLeod picking up both the Katie Stewart Memorial Trophy and the Bank of Scotland Cup.
Mrs Campbell 37, from Tiree, has been learning "wee bits and pieces" of Gaelic over the years but now is studying to become a Gaelic medium teacher.
"I tried to qualify for the Silver Pendant 20 years ago, but didn't, so I'm quite overwhelmed that I won today.
"I had no expectations at all as I mainly just sing at home, but I'm absolutely delighted and still a bit shocked about my win."
As well as being awarded the Silver Pendant, Mrs Campbell also won the Catherine Gemmell Memorial Trophy, which is presented to the female with the highest marks, the Morag Robb Memorial Salver for the highest aggregate marks in Gaelic and the John A MacRae Quaich for highest aggregate marks in music.
On hand to give her plenty of support were her sisters, Dolina, Eilidh and Anna, as well as daughter, Martha, seven, and nephew Ruairidh, also seven. Mrs Campbell has two other children Anna, five and Innes, 10.
In second place in the ladies Silver Pendant competition was Eileen Duncan, who earlier won the Catherine MB Dunlop Quaich and Julie-Anne MacFadyen was third.
Both sport and singing play big part in Coinneach MacLeod's life – and thanks to the latter he has a new lucky number.
The development officer for Uefa – the union of European football associations – has entered the Silver Pendant competition before, but this is his first win.
Mr MacLeod, 43, said: "I've entered twice before, so it is third time lucky for me.
"I am from Cromore in South Lochs on the Isle of Lewis and work in Glasgow. I joined the Glasgow-Islay choir back in 2003, but have only been singing solo for the past two years.
"Some of my cousins from Lewis and Barra came here to support me and I told them to 'whoop' after I sang.
"It must have worked and I am delighted to win."
Mr MacLeod was also awarded the Alasdair MacInnes Memorial Trophy for the male with the highest marks.
In second place was Campbell MacKenzie and Tim Dawson came in third.