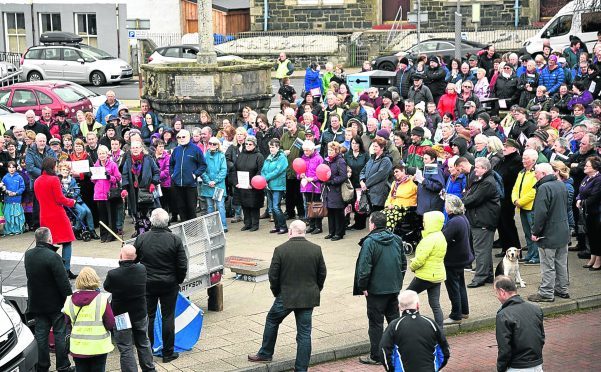 Thousands of people turned out to protests in Caithness and on Skye at the weekend to campaign against the downgrading of local health services.
Rallies took place in Wick, Thurso and Portree where health services are being redesigned.
Local people in the north are campaigning at the transfer of many services, including maternity, to Inverness.
NHS Highland is conducting a review of services in Caithness which includes an audit of bed numbers at Wick's Town and County Hospital, Thurso's Dunbar Hospital, and Caithness General Hospital.
On Skye, islanders are angry NHS Highland plans to remove build a new hospital at Broadford, with a smaller facility at Portree. Formerly the island's main hospital, Portree no longer has a 24-hour A&E service.
More than 300 people marched to Portree Square on Saturday with powerful speeches being made against the changes.
Chat – Caithness Health Action Team, organised the protests at Wick and Thurso.
Peter Todd, a member of Chat, described the public question and answer sessions as "raucous" and "passionate".
Mr Todd of Chat said: "It went really well. The numbers were very impressive considering the atrocious weather."
He attacked the need for patients to travel to Inverness for treatment.
He said: "Nobody seems to have done a risk assessment for the road – and when the ambulance goes to Inverness that's it out of the county for five hours. If the A9 closes we are literally an island.
"We seem to be getting a second class service in the north. They are centralising the health services and people are sick to the back teeth.
"What we want now is for members of the health board to be up on that stage to answer questions. They are taking our services away. They are changing our way of life."
Rhoda Grant MSP said the Caithness rallies were "huge". She added: "I think people are really concerned and they want some straight answers to what the plans are."
Kate Forbes MSP said: "There was a real show of strength and solidarity in Portree as over 300 people turned up for the march and speeches.
"All in all, I do believe that progress is being made, and it is to the credit of the campaigners for not giving up."
NHS Highland will begin a public consultation into the Caithness redesign in November.