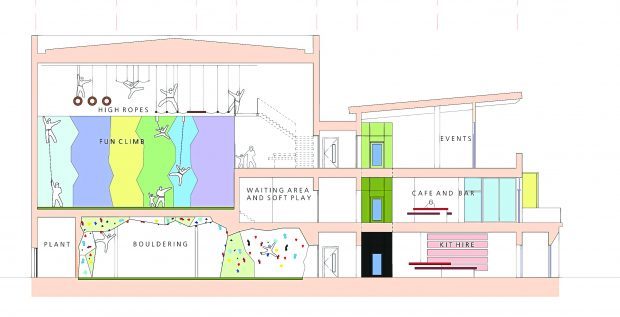 TV presenter Duncan McCallum is leading ambitious plans to build a new £3million sports centre with a climbing arena at Inverness Marina.
Mr McCallum, co-host of The BBC's Adventure Show, aims to build the sports complex at the site and create around 26 jobs.
Plans for the Scotslog Sales owned land have now been lodged with Highland Council.
If approved, it would become Scotland's second largest sports centre catering to the needs of enthusiastic climbers and local residents, and Mr McCallum expects to attract around 50,000 visitors a year.
Mr McCallum, a former pupil of Dingwall Academy, said: "Participation in climbing in Inverness and the Highlands has been growing over the last few years and the current facilities are not really suitable to provide the things the modern climber and people want.
"This is an opportunity for kids and children to come in and actively play in a safe and adventurous environment and it really is needed. More people are moving to the Highlands for an active lifestyle but when the weather is bad, there really is nowhere for them to go."
The proposed centre, which will be called The Ledge, will feature a number of elements suited to train international climbers, including several climbing areas and bouldering spaces.
It will also offer a range of other facilities including a gym, fitness room, changing rooms and yoga space.
A café and soft play area have also been drafted on the plans, along with a number of meeting areas and function suites.
Mr McCallum added: "We are committed to working with local schools, disability groups and community groups and to have a positive impact on people's health and well-being and it's being integrated into community life.
"We hope to have an active role training successful champions for climbing but also to have a big impact on the health of the city and as a charity promote our equality and inclusion in adventure sports. We want to appeal to many people and give them the opportunity to try climbing, have adventure play opportunities and train them."
The designs have been drawn up by LDN Architects of Forres and includes parking for 100 cars and space for 20 bicycles.
Conservative councillor Isabelle MacKenzie, for Inverness Millburn, said: "If it's bringing in employment and active participation in sports that should be a good thing, as well as putting Inverness on the map.
"It's encouraging if it means we can develop from that and have competitions up here, bringing people in from other parts of the world."
Stuart Nicol, the chief execurtive of Inverness Chamber of Commerce, also welcomed the project, adding: "It reflects the growth of the city and the growth in leisure activity in the area. It will also provide a number of jobs."