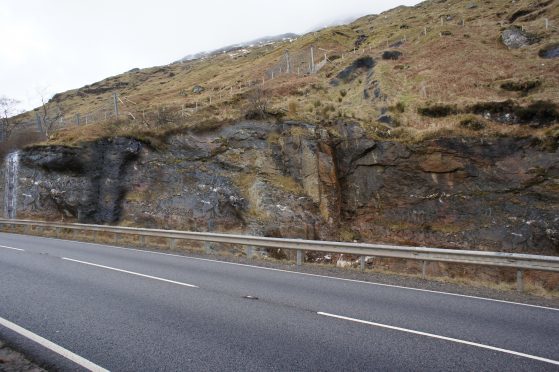 A £1.8million project to dig three pits to catch thousands of tonnes of material from landslides at the notorious Rest and Be Thankful in Argyll is underway.
The stretch of the A83 Tarbet to Campbeltown road between Arrochar and Cairndow has been hit by numerous landslides over the years.
Motorists were forced to make lengthy diversions each time a landslide closed the hill road, leading to Transport Scotland building an emergency detour route via the Old Military Road nearby.
The pits have been designed to prevent debris from reaching the road.
Modelling work was carried-out to establish the best location for the pits.
Transport Minister Humza Yousaf said: "The Scottish Government remains firmly committed to maintaining access to the A83.
"More than £58million has been invested in the route since 2007 to the end of the last financial year, including almost £10million for landslip mitigation at the Rest and Be Thankful.
"Once completed, these three pits will have the potential to hold upwards of 15,000 tonnes of debris material were this to be generated by a landslip. This provides additional resilience capacity.
"The nets continue to prove their worth having caught material from a small slippage recently.
"We understand that the community is concerned about a delay to the start of the catch-pit work but it was important that we had the correct preparations in place and now that the work is underway we are looking forward to seeing it progressing to keep Argyll open for business."
Eddie Ross, Bear Scotland's north west representative, said: "The installation of the new catch pits, together with the fences and debris flow catch-pit already in place at the Rest and be Thankful, will provide further protection resilience against any future landslips blocking this key route. The current programme is expected to take up to 24 weeks to complete.
"Temporary traffic lights are necessary to keep our teams and road users safe during the works.
"We'll endeavour to keep all stakeholders updated as the works progress, and thank the local community and road users for their patience while we complete these works."