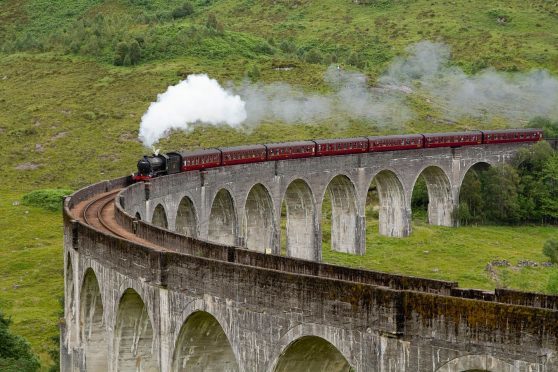 A transport body has claimed one of the north's best-loved and iconic railway lines has been neglected for decades.
Members of the Lochaber Transport Forum believe the West Highland Line gets "cast-offs" from the rest of the network – and have even dubbed it the "Cinderella" line.
They claim that investment in high-speed trains and new stations is happening elsewhere in the region, but "very little" is being done to the line, which shot to fame thanks to its starring role in the Harry Potter films.
Brian Murphy, chairman of the forum, said: "The West Highland line really is the Cinderella line. Inverness is getting high speed trains and investment is being made to other routes, such as the Far North Line and the Highland mainline, with improvements and new
stations opening.
"This line gets nothing. It is a lovely scenic route and lots of people want to travel on it, but there are not sufficient services, trains are cancelled and no information is given to passengers waiting at the stations.
"It's just a shambles and we are fed up with it."
The West Highland Line links Mallaig, Fort William and Oban with Glasgow.
Forum member, Arthur Cowie of the Lochaber Disability Access Panel, said: "It takes five and a half hours to travel from Glasgow to Mallaig.
"Often people want to connect with ferries, but if trains are cancelled they are stuck. Local crews are really brilliant and try to help as much as they can, but we need a decent transport network as it will bring more prosperity to villages along the route.
"Hitrans, the Highland and Islands Transport Partnership, has an important role in planning public transport services and it is ignoring the West Highland Line. They give plenty to other areas, but very little here.
"This line has been neglected for decades."
But Frank Roach, manager of Hitrans, said that recent studies had shown there was "no case" for further investment on the line – but said timetable changes were being brought in to better serve the local area.
He said: "Network Rail's  Scotland Route Study examined forecast growth to 2043 and found no case for enhancing the infrastructure unlike the Far North Line.
"However we do believe that there is case for timetable changes and additional services to Fort William and propose to do some work. From May 19, the West Highland trains will be dedicated to the route, no longer being shared with Glasgow local services, so there will
be an opportunity to look at the service pattern.
"We share concerns about cancellations at Mallaig due to driver shortages, but the additional driver taken on by ScotRail has already had an impact."
He added that the West Highland Line had benefitted from the shared £26million radio signalling upgrade with lines north of Inverness earlier this year.