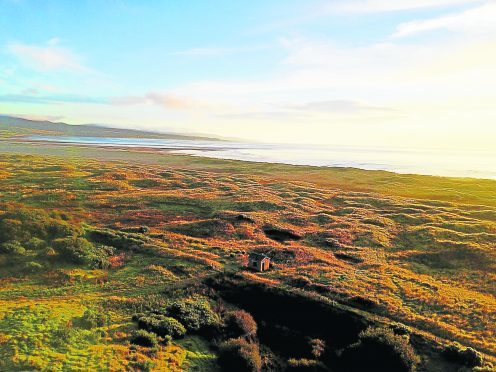 Conservation groups have lodged a joint objection to plans for a new Highland golf course.
They say an 18-hole development at Coul Links will damage an internationally protected wildlife site and claim it would potentially be "more damaging" than Donald Trump's golf course in Aberdeenshire.
US developers Todd Warnock and Mike Keiser are driving the proposals, which would encroach 1.8% of a Special Site of Scientific Interest and affect a special protection area and protected wetland site.
But the developers said wildlife and conservation has been a "critical factor" in their approach and that independent studies show the golf course would provide long-term biodiversity gain.
And they have asked for the project to be viewed on its own merits instead of being compared to other developments in Scotland, while stressing the "overwhelming" local support for it at two public information events last month.
Figures from those events show 85% of those surveyed in Dornoch supported the plans, while 92% in Embo were in favour.
But an alliance of conservation groups – Buglife, Butterfly Conservation Scotland, Marine Conservation Society, Plantlife, RSPB Scotland and Scottish Wildlife Trust – are now urging opposition.
Aedán Smith, head of planning and development at RSPB Scotland, said: "Almost a decade since Donald Trump's controversial Aberdeenshire golf course was approved, destroying part of a nationally important wildlife site and severely denting Scotland's environmental reputation, it's incredible that an even more damaging proposal could come forward.
"There are international obligations to ensure the protection of Coul Links due to its global importance for wildlife. The eyes of the world will therefore once again be on Scotland, and on the Highland Council when they make their planning decision, to see whether we now place more value on our special places."
Conservation groups say the proposals would create a "damaging ripple effect" across the wider protected site, breaking up interlinked habitats and uprooting a rare colony of juniper trees, disturbing dune system processes.
They also say the development would impact migrant geese, waders and ducks.
In their submission to Highland Council planners the conservationists also raise concerns about "serious flaws" in the environmental assessment commissioned by the developers.
But a spokesman for the developers reiterated their survey work has been carried out by independent consultancies and is accurate.
He added: "With a significant economic case, and a commitment to maintain, protect, and enhance this special site, the developers are in no doubt that the project will bring both short and long-term benefits to the site and the local community.
"Once again, we urge all interested parties to view the documentation supplied with the planning application."
The deadline for commenting on the plans is December 1.