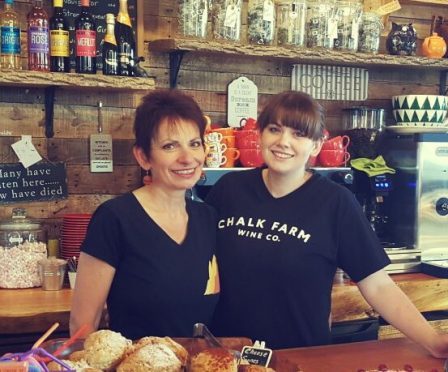 Politicians and businesses in the Highlands yesterday welcomed "a breakthrough" to tackle unfair delivery charges hitting customers in the north.
Rising surcharges which penalise people for living in the north have been a source of anger in the region for years.
Rebecca Weymer and her mum Teresa own John O'Groats-based Stacks Coffee House and Bistro, and last night welcomed the move.
Miss Weymer, 24, launched a petition earlier this year calling for changes to delivery charges and attracted tens of thousands of supporters.
She said: "It's great.
We set the ball rolling with the petition but it was down to MSP Richard Lochhead after he mentioned it in parliament.
"We set up our business, a shell unit, in 2015 and we had to install an office, kitchen and take down walls and put them up. We got £200 extra added on for delivery because of where we live."
Inverness MP Drew Hendry and Mr Lochhead have campaigned hard for a rethink on the delivery rip-offs.
And despite the news, Mr Hendry told campaigners they need to keep the pressure on for now.
"I have heard these warm words on the subject before, so it is vital that we keep the pressure up to ensure there is a genuine commitment to end unfair delivery charges once and for all," he said.
Caithness, Sutherland and Ross-shire MSP Gail Ross praised Mr Lochhead and Mr Hendry for their efforts.
She said: "This is really welcome news that the UK Government has finally decided to act on the issue of high delivery surcharges, something that has plagued the Highlands and Islands and Moray for many years."
Skye, Lochaber and Badenoch MSP Kate Forbes added: "This is the first time the UK Government has considered action to address the problem, though it has been years of unfair rip-offs for Highland consumers.
"Perhaps next Christmas Highland consumers won't pay over the odds to receive basic goods.
"It looks like naming and shaming retailers hasn't just embarrassed them, but has finally embarrassed the UK Government into action."
Conservative Highlands and Islands MSP Jamie Halcro Johnston said: "This review by the UK Government is welcome. This follows two years of work by Ofcom to collect data on the extent of unfair delivery charges – and we now know that action is taking place to protect consumers in northern Scotland.
"I will continue to press for action in the Scottish Parliament and to ensure that questions are put to businesses when constituents report apparently unfair charges being quoted or where organisations refuse to deliver at all."