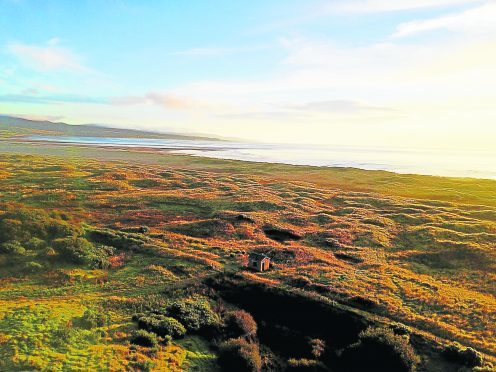 Conservation groups have backed an official objection to the plans for Coul Links golf course from the Scottish Environment Protection Agency (Sepa).
US golf course developer Mike Keiser and businessman Todd Warnock submitted their proposals in September for the 18-hole development in East Sutherland, just north of Embo.
The majority of local people are in favour of the development, with the promise of local jobs and economic gains, but there are also about 900 individual objections and a petition circulating online has drawn more than 86,500 signatures against the project.
Part of the golf course encroaches a Site of Special Scientific Interest, a special protection and a protected wetland site.
Sepa, Scotland's principal environmental regulator, is the latest group to object – but the project's developers have welcomed it as a "thoughtful and constructive response."
Their objection says that the project would have "significant adverse environmental impacts if the golf course is developed in its current form" and that the number of greens, tees and fairways would have to be relocated to mitigate these impacts.
The report also highlights that there would be disruption to groundwater dependent terrestrial ecosystems, such as dune slacks, which are wetlands protected under the EU Water Framework Directive.
A coalition made up of the Scottish Wildlife Trust, Buglife Scotland, Butterfly Conservation Scotland, the Marine Conservation Society, Plantlife and RSPB Scotland has been campaigning to stop the proposals.
Following Sepa's objection, Scottish Wildlife Trust senior policy officer Bruce Wilson, said: "Sepa is Scotland's principal environmental regulator. This strong objection to the Coul Links proposal demonstrates that the environmental impact of the proposed golf course would be far more damaging than the developers have stated.
"SEPA has raised important concerns about the effect that applying pesticides and removing hundreds of litres of groundwater per day will have on the internationally important wetlands that make Coul Links a special place for wildlife. Furthermore, they have pointed out that these impacts have not even been properly assessed."
Craig McAdam, conservation director of Buglife Scotland said: "Creating a golf course at Coul Links will steadily impoverish the area's biodiversity, and over time a very special place will be turned into a very ordinary one.
"With both Scottish Natural Heritage and the Scottish Environmental Protection Agency objecting to this environmentally damaging proposal surely it is time to throw this application out, and consider an alternative site that doesn't impact on internationally protected sites."
The developer welcome what it called Sepa's "thoughtful and constructive response" which was the result of a "productive working relationship".
"We are in direct dialogue, are gathering the additional information requested and are confident we will resolve these matters constructively." a spokesman said.
But he hit out at "scare tactics" objections by other bodies such as the RSPB and the Scottish Wildlife Trust which were "without basis of knowledge or fact."