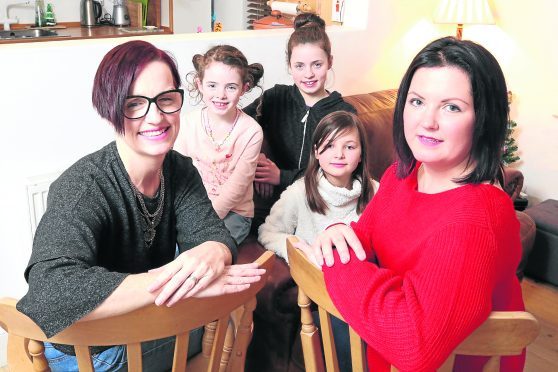 The council has U-turned on controversial plans announced this week to close a remote Highland primary school due to a teacher staffing crisis – after finding two new teachers.
Angry parents fought the proposals to shut the 19-pupil Strathconon Primary School in the new year, after being told the news on Monday, with several pledging their children would not be attending the replacement at Marybank.
But the council's head of education, Jim Steven, met with parents yesterday and told them the local authority had continued to try and recruit and have now identified temporary teaching staff.
Parent Jacqui MacKinnon, whose children would have been forced to travel an hour each way to get to Marybank from their home, said the move came as "brilliant news" but added: "If we had stood back and done nothing they would have closed Strathconon which, in our eyes, would lead us to think every other small school had the same noose round its neck.
"The heart of this community is the school. Most of us moved here because of the school as there is not any other amentities like pubs or Post Office or shops, and they tried to rip out the heart of the community.
"We got the result we wanted. We stood together and put enough out there and I thank The Press and Journal for running a piece to highlight it."
Miss MacKinnon added that all parents at the school had stated at yesterday's meeting that they would 'home school' their children instead of transferring them to Marybank.
The council's director of Care and Learning, Bill Alexander, said they were forced to conclude last week that recruiting staff for Strathconon looked impossible and needed time to put in alternative arrangements, but that they continued to work on recruitment and have since had success.
One full time supply teacher has been appointed along with one promoted member of staff from another school who will work some days.
Mr Alexander stressed that these are temporary arrangements and that the council is still seeking to appoint permanent staff in the new year.
He confirmed that interviews have been set up for a permanent principal teacher and that an advert will go out for a new class teacher.
Mr Alexander added: "The challenge of teacher recruitment remains a high priority for the council and all other Northern Alliance authorities.  We will continue to develop new initiatives, and work with the Scottish Government and other partners, to address this challenge."
Another Strathconon parent, Diane Hendry, said all parents are "delighted" the school will be staying open, adding: "It will benefit the children but we have been let down by this and I don't think they would have made this decision had we not started to fight it.
"We were never consulted in the first place so our permission was never granted for our children to be moved anywhere.
"I think it would be appropriate if council bosses delivered us an official apology for how it's been handled because this has caused so much upset and has been so stressful for us all."