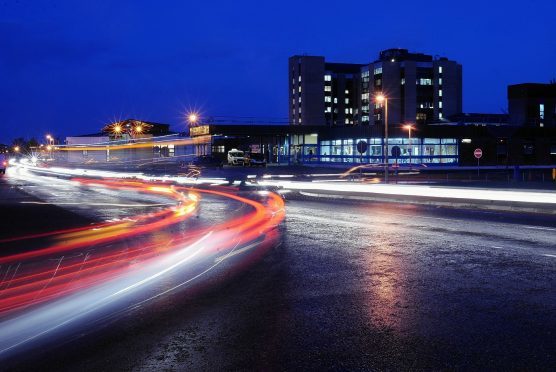 Children and pregnant women have been warned not to visit the biggest hospital in the north as medics fight to keep flu and winter viruses under control.
Restrictions have been put in place at Raigmore to try to protect hundreds of inpatients, many of them frail and vulnerable, from being caught up in an epidemic.
Only two visitors are allowed to any bedside at one time, and experts have called for people to leave children at home.
They are also urging pregnant women not to put themselves and their unborn babies at risk by visiting friends and loved ones in hospital.
Just two days ago, NHS Highland bosses pleaded with members of the public not to visit any north hospitals if they had any flu symptoms.
The ramping-up in guidelines comes as staff gear up for what is effectively a four-day weekend at a time of year when people are less likely to be working and have more time to visit sick relatives, friends and neighbours.
Dr Adam Brown, consultant microbiologist for NHS Highland, explained that restrictions have now been put in place across all wards in Raigmore Hospital.
Dr Brown said: "We are asking that visiting wards within Raigmore Hospital is strictly limited to two people per patient at any one time and that children are not brought in to visit patients in hospital. We would also advise that, given the high risk of flu, pregnant women should avoid visiting as well.
"We appreciate that at this time of year many people want to spend time with loved ones and this includes those who are in hospital but we are taking these measures for the safety of our patients and would ask for everyone's understanding and cooperation at this time."
Doctors know there are a number of viruses currently circulating in the community including respiratory illnesses such as flu as well as diarrhoea and vomiting, and are seeing a reflection of this in our hospital patients.
The NHS Highland flu plan is now officially in place, and patients are being encouraged to keep in touch with loved ones by phone.
At any one time in Raigmore yesterday, it is understood there were upwards of a dozen patients suffering from the flu, although numbers fluctuate as some are sent home and others are diagnosed.
Medics also continued to urge those eligible to get a flu jab.
A ward in the stroke unit had already been closed due to an outbreak of the gastro-intestinal bug Clostridium Difficile.
Earlier this week, Aberdeen Royal Infirmary was placed on "code red" after a surge of flu patients stretched NHS Grampian to the limit.