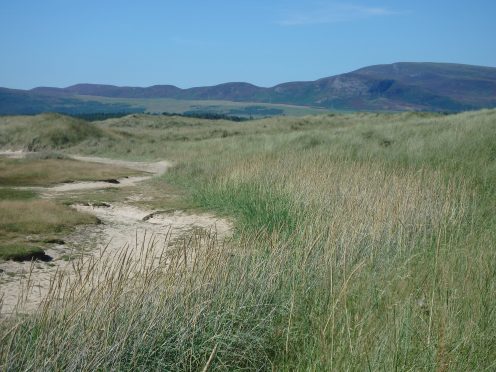 One of the hurdles threatening to bunker plans for a world-class golf course in Sutherland is about to be cleared, claim developers.
Scottish Natural Heritage (SNH) appears on the verge of removing one of its two objections to the £10million Coul Links project.
A spokesman for the government body said last night: "Since providing our advice to the Highland Council late last year, we have continued to work closely with the developer and their consultants to develop a Recreation and Access Management plan to protect wintering and breeding birds on and near the proposed golf course. We hope to soon agree this plan with the developer. Our primary objection, the impacts to SSSI sand dune habitats, remains unresolved."
The proposed course is situated near Embo. And opposition to the scheme – part of which would be on a Site of Special Scientific Interest – is still formidable. A petition against the course this week topped 87,000 – more than six times the population of Sutherland.
The RAMP covers issues including those relating to potential bird disturbance and, as a result, all outstanding ornithological objections raised by statutory bodies have now been successfully resolved, claimed developers.
Further discussions are continuing with SNH on dune habitats, which have been the subject of detailed talks and are captured in the site's Environmental Statement, with the hope of overcoming this final outstanding issue and progressing the plans.
Several requests for information from the Scottish Environment Protection Agency (SEPA) have also been addressed, say developers.
The company behind the golf course plans has accused a coalition of conservation groups of scaremongering over the project's environmental impact. While the environmental bodies have previously highlighted the alleged damage the scheme will cause to wildlife.
US businessman Todd Warnock and world renowned golf course developer Mike Keiser are spearheading the proposals for the 18-hole course.
Mr Warnock is confident that the remaining matters can be resolved.
He said: "Our team has been working closely with SNH to resolve issues in the RAMP. SNH had stated in their response to the plans that they considered it 'likely these issues could be resolved' and we are pleased to have concluded this effort."
The Coul Links team says the golf course plans are supported by "an overwhelming proportion of the local population," and will provide a once-in-a-lifetime opportunity, creating an estimated 250 new jobs and more than £60 million gross value-added during its first decade of operation.
An alliance of the Scottish Wildlife Trust, Buglife Scotland, Butterfly Conservation Scotland, the Marine Conservation Society, Plantlife and RSPB Scotland are campaigning to stop the proposals. The National Trust for Scotland has also objected.