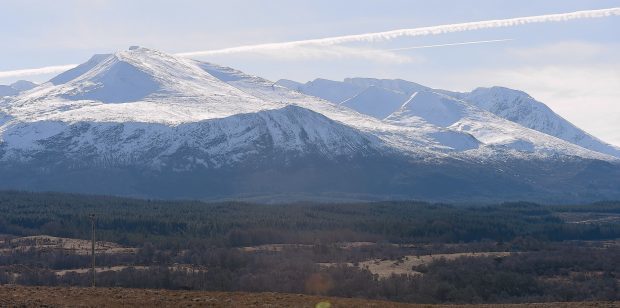 Rescuers have said it will take "a miracle" for a missing hillwalker to have survived a 1600-ft plus fall on Ben Nevis.
It is believed he may have been buried by a massive avalanche.
Lochaber Mountain Rescue Team have decided to put the search "on hold" because the conditions on the mountain are "too dangerous".
Hopes fade for missing climber believed to have been caught up in 1,600ft Ben Nevis avalanche
The Coastguard rescue helicopter from Inverness searched for an hour yesterday afternoon, but no sign of him was found.
The man – one of a group of three – was seen to go over the edge near the 4411-ft summit.
John Stevenson, leader of Lochaber MRT, said the man is believed to have fallen through a collapsing cornice – an overhanging snow build up – and plunged into Observatory Gully on the mountain's North Face.
He said: "There has been a big avalanche there which he may have triggered.
"We just cannot get in there because it is just too dangerous – cornices are collapsing all the time with the weather.
"But we could see there has been a huge avalanche and if he is buried under that it could take a long time to find him. The hope is that he is on the top of it.
"It does not look good for him and it would be a miracle if he even survived such a big fall. He must have fallen 500 metres (1640ft). That gully is a fantail with a mouth of about 15 metres (49ft) so the snow piles up deep there.
"We have put the search on hold until the weather improves  – it is really treacherous conditions for the team. You just cannot see where you are going. It has been whiteout with the high risk of avalanche."
Mr Stevenson pointed out it took around two months to find the bodies of Rachel Slater, 24, and Tim Newton, 27, who were buried in a massive avalanche coming out of Observatory Gully on Valentines Day two years ago.
On Sunday and Monday rescuers searched for the missing man – believed to be in his 20s – in "terrible conditions."
Mr Stevenson said: "The conditions were as bad as I've known them. They were absolutely terrible – they couldn't have been worse.
"We searched as best we could in the worst conditions you can imagine. But where he has gone is a huge drop."
The missing man was among three hill walkers – all believed to be Poles. The other two were found near the summit around 6pm on Sunday after raising the alarm three hours earlier.