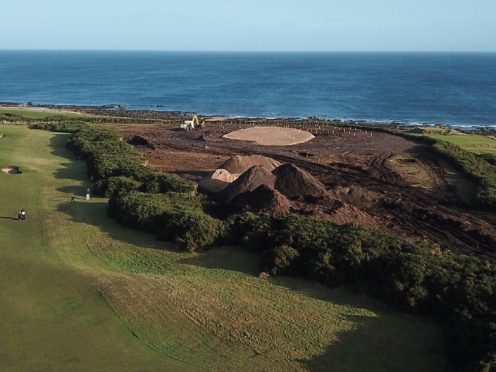 It is one of the toughest greens on one of the most famous golf courses in the world.
But now, the once-notorious seventh hole at Royal Dornoch is being dramatically altered – to improve the view rather than players' scorecards.
These new aerial pictures reveal the progress being made on a new green , with work continuing in three phases over the next four winters, with the new hole opening for play in 2021.
And new tees for the 8th hole will be built on the existing 7th green, making the tee shot there more like the original intention in that golfers will play their second shot from the top of the hill.
It marks the final part of a series of major improvements to the championship golf course in Sutherland, which was earlier this month ranked 2nd best in the world by global publication Golf Digest.
Neil Hampton, Royal Dornoch's general manager, said: "With such a big expanse of gorse bushes to the right of the current 7th hole, we have been able to leave a ribbon of bushes next to the current fairway which acts as a barrier to the works, so play continues without the golfers knowing what is happening. The final phase will see these bushes taken away and the new hole revealed.
"The overall effect will be to give stunning views of the golf course along the complete length of the hole, whereas these views are only available from the 7th tee at the moment."
The greenkeeping team will create a new green at the 479-yard par four 7th hole, about 40 yards to the right of the existing one, with the current tees staying where they are. It will remain the second hardest rated hole on the course, after the 14th.
Mr Hampton said that the shape of the green will be replicated in the new green, as it plays a major part in how the hole plays.
The club's greenkeeping team is carrying out the work and follows recommendation by leading course architects Mackenzie and Ebert.
The pictures drew plenty of reaction on social media, with many eager to know the planned opening date.
Last year the club completed changes to the 5th, 10th, 11th and 12th holes as part of the strategy.