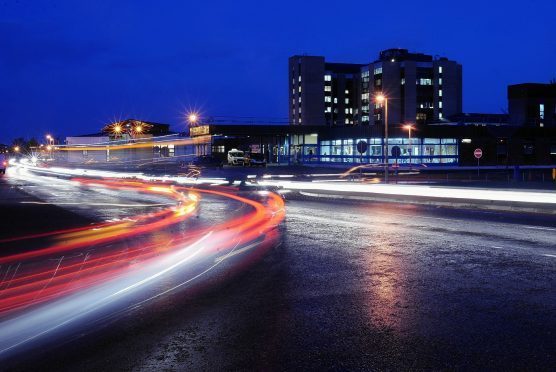 Hundreds of operations in the Highlands are under threat after the main theatre complex at Raigmore Hospital in Inverness was suddenly – and indefinitely – closed yesterday.
It is the third time in just four months that all planned operations have been cancelled at the main hub hospital in the region.
The latest episode is the result of superficial existing cracks being discovered in walls during work to upgrade the theatre complex.
The closure, which could last well into next week at least, comes just over a week after dust contamination also shut theatres, forcing dozens of elective operations to be cancelled.
And last October operations were postponed as a result of a water leak damaging hospital computers.
Emergency operations have not been affected, as these can be carried out in the hospital.
NHS Highland chiefs last night apologised to patients affected.
A statement said: "As this [upgrade] work has progressed, unforeseeable issues have been identified within the existing building structure which has led to the necessity to cancel all planned operations."
It stated that no structural issues were found, but concerns were highlighted relating to the superficial cracks on some of the theatre walls.
As a result, the clinical decision was made to stop all planned operations until further notice. The hospital can deal with around 30-40 elective operations a day.
Contingency measures have been implemented to ensure all emergency operations will continue outwith the affected theatre area.
Ron Coggins, clinical director for the surgical division at Raigmore, said: "It was not possible to foresee this complication, but I am reassured that we do have a plan in place to get our theatres operational as soon as possible.
"The clinical team have also started to look at our patient lists to prioritise the work that we need to do once our theatres are operational.
"We are examining all theatre capacity across all sites in Highland and are also in discussions with NHS Grampian and others to see how they may assist.
"We are truly sorry for the disruption and concerns this will have on our patients across Highland.
"I would like to assure patients and the public that senior clinicians will be prioritising all cancer and other urgent patients. I am also content with the plan we have in place to manage all emergency patients."
He added: "At this stage I can't say with certainty how long these theatres will be out of use but it will certainly be this week and also into next week."
A spokesman for Graham Construction, contractor of the theatre upgrade, said: "This issue is related to the existing building structure, and is not a result of work taking place as part of the current theatre upgrade programme."
'The emotional and physical cost to patients must not be forgotten'
Highlands and Islands MSP David Stewart, Scottish Labour's shadow health minister, expressed concern over the "emotional and physical cost" to patients as a result of the latest cancellations.
He said: "It must be really frustrating for patients and for clinicians that planned operations have been cancelled for a third time and for a substantial period.
"While I can see why this is necessary, given the unforeseen nature of the problem, it will seriously affect the hospital, both in terms of the costs involved to cope with the unplanned work and with the delay, and in terms of waiting times for patient operations.
"The emotional and physical cost to the patients affected should also not be forgotten with many already waiting long periods for their essential operations.
"This will definitely set the hospital back and cause a huge headache for all our hard working front-line staff who are already facing difficult circumstances."
And Highland Conservative MSP Ed Mountain added: "NHS Highland seem to lurch from one crisis to another when it comes to operating theatres.
"The management must almost be on their final warning regarding delivery of care in the Highlands. They must get a grip and get those patients who have lost their slots back in to theatre as quickly as possible."